Systems that use 5.1 channel speakers are used for surround sound applications and have been steadily growing in popularity throughout the audio industry for use in theaters and residences alike. 5.1 channel speakers produce sound that can be heard from all directions around a listener, simulating the effects of real sounds.
5.1 channel speakers are especially popular for 3D movie applications, which aid in the realism of the film. Since the advent of 5.1 channel speakers, however, the introduction of 7.1 channel speakers and 8 channel speakers to the market has also occurred.
How 5.1 Channel Speakers Work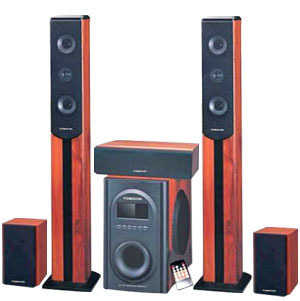 5.1 channel speaker configurations consist of a total of six speakers which work together to produce a 360° sound effect around the listener. A 5.1 channel speaker configuration consists of three front speakers (left, center, and right), two rear speakers (left and right), and a subwoofer.
All 5 speakers produce a frequency between 20Hz and 20 kHz while the subwoofer produces a frequency between 3Hz and 120Hz. Generally, these speakers are placed around the listener's living room or around the interior walls of a theater in order to produce a truly 360° effect.
Applications
5.1 channel speakers are most commonly found in theaters and are used for both 3D and 2D motion pictures. However, 5.1 channel speakers have been slowly working their way into residences for use with home entertainment systems and HDTVs.