7 Ways Firefox Falls Behind Chrome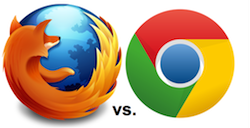 Firefox was a revolutionary browser. It rose out of the ashes of Netscape's legacy to strike a decisive blow at Microsoft's Internet Explorer monopoly. It was a market that begged for a disruption, and Firefox delivered, most notably by introducing a now ubiquitous tabbed browsing paradigm.
Fast forward to today, and things are quite a bit different. While Internet Explorer's market share is just about at an all time low it is not Firefox that is at the limelight. Instead Google stole the show with Chrome, while Firefox struggles to keep up.
Among many users Firefox earned the reputation of a slow, bloated, feature creeped web browser with a messy legacy of extensions, not all of which work with the latest version. Chrome set the bar higher with its zen-like elegance and a smooth user experience, and Firefox has still not entirely caught up.
I present a few reasons why I think Firefox is still falling behind Chrome, but I have to add a caveat. We are all very spoiled. The state of web browsers today is miles ahead of where we used to be. All of the major web browsers, including the latest Internet Explorer, do a pretty good job at showing us the web we want to see. Being this spoiled, there is little that we can complain about that wouldn't sound a bit like a nitpick.
So that's essentially what these complaints are; nitpicks. If anyone reacts with a remark that sounds something like "oh come on, you lazy bastard", I understand. I am lazy, just like the millions of others who're now so used to getting pampered by their web browser. So here goes the nitpicking.
1. Updates not as smooth
One of Google Chrome's best features is the one most people probably never even see, and that's exactly what makes it so great. Google Chrome marked the end of having to worry about whether you have the latest version of the browser. If you ever quit the thing, and then reopen, you're up to date.
Firefox on the other hand, while they made some strides in this respect in so far as you don't have to manually check Mozilla.org to see if there's a new Firefox, still isn't as smooth. It still nags you about it, then downloads an update, and then wants to restart. On Mac you don't even get notified until you open the About window.
2. Extensions / Add-Ons Legacy
Being longer on the scene, and being pretty much the first browser to spark a huge ecosystem of extensions, themes, and plugins around itself Firefox has a sizable legacy to deal with. The issue is that extensions compatible with one version of Firefox aren't necessarily compatible with another. When you couple this with the effort to get as many Firefox users as possible to the latest version of Firefox in a semi-automatic manner, you can get the idea of the problem. Users update only to find some of their extensions not working (which adds to the nagging during updates).
Another issue here relates to user interface consistency. In Chrome if an extension has a button it will be placed on the right of the omnibar, always and without exceptions. In Firefox the button could end up there, or it could end up as a small icon somewhere at the bottom.
3. Poorer downloads management
Yet another cool thing about Chrome is the way it handles downloads. Once a download is started and you select the download location your download, along with a progress indicator, will appear at the bottom of the window. In case you don't want to see it there you can easily dismiss it, and later check the downloads page that neatly loads in a tab.
Firefox on the other hand still follows the old way where they just put the download in a typically not visible separate downloads window. Once you start your download you no longer see it until you open the downloads window, and once you do open it, going back to surfing will make it go below the active Firefox window, because it doesn't load anywhere within the main Firefox window. This makes download management somewhat clunkier.
4. Poorer tab management
Aside from that Chrome's tabs just look neater to me (and I know this is a purely subjective preference), managing Firefox tabs is a bit less optimal. If you open too many tabs some of those tabs will stop squeezing next to each other and just become invisible. You have to scroll to get to them, or use a menu.
Chrome will simply keep squeezing tabs next to each other, as far as I know indefinitely, even when their size becomes just enough to hold the favicon and the close button. Why is this not a problem? Because the number of open tabs is oppositely proportional to the likelihood that someone will open that many. Additionally, at that point you're likely beginning to hit up other limitations of your system, such as system memory or CPU time (especially if some of those bazillion tabs have flash in them).
Besides, is it really better to scroll through a 100 tabs than have them all squeeze tightly next to each other? Squeezed they might not look like much, but at least they're all there immediately visible, and all you need is to pinpoint the close buttons.
To some extent I suppose this comes down to personal preference, and I obviously prefer the Chrome way. However, just as the number of open tabs is oppositely proportional to the likelihood that someone will open that many it is also likely that if you have a somewhat reasonable "medium" number of many tabs open you'll likely prefer Chrome's persistent tab squeezing (that could be a technical term for this feature) than having to suddenly start scrolling around just to see what you got open.
5. Start page vs. homepage
Firefox 13 introduced homepage buttons, and just as the post-update automatically-opened "What's New" page bragged about it, I completely missed to see it. You see, if (like most people) you have your Firefox resume the tabs you had open when you last closed it, you won't even see the homepage. So what use are these extra convenient buttons? The right page for these is on the "New Tab" page instead.
6. Atypical inspector (relevant to developers only)
Since recently Firefox has a new inspector, quite different from what we're used to in Chrome, Safari, and something similar in Opera and the Firebug extension. To be honest I have mixed feelings about it, but overall I always choose Chrome's inspector over the Firefox one when troubleshooting and testing CSS and HTML on the site.
A couple of examples of where this new Firefox inspector falls short is that it darkens everything else on the page except the selected element, which ruins the view of the design context of that element, and that it's actually a little more difficult to make quick edits with it. I'm not exactly sure where to click to add a new CSS line, for instance, and just end up somehow getting it accidentally.
It does have some neat features, such as 3D view, but at this point it feels more like a gimmick than something terribly useful.
7. Slower OSX support
While Firefox does support back and forth gestures, and two-finger scrolling it still doesn't hide the scrollbar like the rest of the OSX apps, didn't use OSX' native fullscreen apps system till just released Firefox 14, and pages don't bounce off of the edges when scrolled. These are fairly minor issues, but they do make Firefox feel a little out of place from the consistent OSX experience, and give the impression that Firefox is a second class citizen on Mac.
Full support for Mac OS X 10.7 (Lion) is planned for Firefox 16, which will be released after OSX 10.8 (Mountain Lion) is already out. That's a full release cycle late, albeit OSX 10.8 is just a mostly incremental upgrade, so all the Lion specific modifications will likely continue to function in Mountain Lion.
Of course, Chrome isn't perfect either, but no browser is. The point is that as it stands Firefox is playing catch up in terms of providing a smooth user experience. Chrome overall feels more polished, streamlined and elegant. It still, however, doesn't have a native RSS reader!
7 Ways Firefox Falls Behind Chrome

,
Last updated
.