Best Android Apps
Here is a selection of fun and useful Android apps. Some are just extremely useful, and others could be very fun, but all of them demonstrate just how capable and entertaining an Android smartphone can be. I've also included QR code images so you can get an app instantly by just scanning it with an app like Google Goggles.
1. ES File Explorer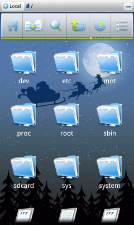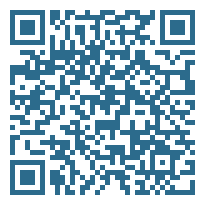 Your Android phone is a full blown computer with an operating system, files and folders. Why not have the ability to browse through it just as you would a normal computer with Windows Explorer or Finder. ES File Explorer is among the more polished file explorers for Android, as well as fully featured. You can easily multi-select, copy, cut, delete, shortcut, bookmark, view properties and even compress files and folders. It lets you open files in preferred apps, and even offers a search function for all the files to search by type or a text string.
2. NetQin Antivirus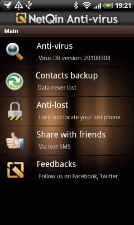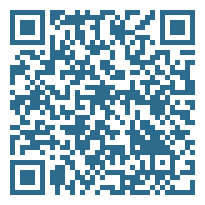 We've been hearing about potential security issues involving certain Android apps so it's not at all unwise to have something protecting you. NetQin's Antivirus app can scan the entire phone for virii, and scan each newly installed app immediately after it's installed. It can also perform a contacts backup so they are not lost in case things go awry, and offers an "anti-lost" feature that could help locate the lost phone or otherwise remotely lock, delete, sound the alarm or report SIM changes.
3. StumbleUpon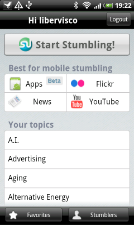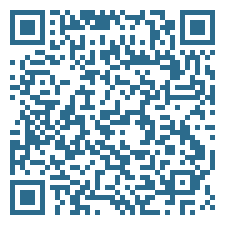 StumbleUpon, an addictive way of discovering new stuff online, is now on Android. It can stumble on news, videos and flickr images. Best of all, it can stumble Android Apps, which is likely the best way to discover new apps. Stumbling can be filtered by topic, and previously liked stumbles can be browsed by tapping the "Favorited" button.
4. Mobisle Notes Free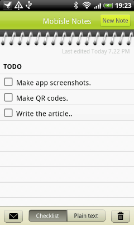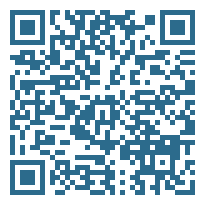 After trying a few note taking applications I settled on Mobisle Notes because of its great looking slick interface and a few killer features. Notes are basically text files stored on a virtual block with their creation dates, and can in the edit mode be easily deleted at the tap of a button. The notes themselves have two modes, a plain text mode and a checklist mode, which is a real treat. Checklist mode automatically turns each line of text into a checklist item. Tapping on a check mark dims it and moves it to the bottom of the list indicating that it is finished.
5. Backgrounds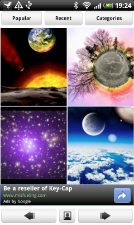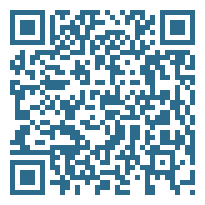 Nothing makes an Android phone feel like new again more than a new wallpaper. Backgrounds is an app that gives you instant access to a large number of great wallpapers in many categories. You can browse four at a time by pressing the back and forth buttons, and when you find the one you like just tap it and "set as wallpaper". They can also be saved, favorited, and added as an image of a chosen contact.
6. Aldiko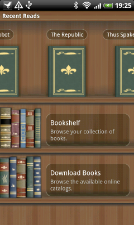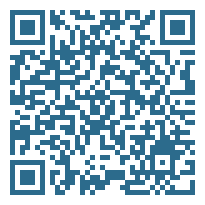 Aldiko is an excellent eBook reader app with access to a sizable Aldiko Online Catalog. Of particular interest may be the free eBook categories including free original books from feedbooks.com and a library of public domain classics and creative commons licensed free books. It can also import books from the SD card.
Aside from access to books Aldiko provides an excellent and customizable reading experience that actually makes reading on a smartphone fairly pleasurable. Pages are flipped naturally with a flip gesture. It also allows setting up the text and background color for optimal reading, and brightness can be set by just sliding the finger up or down at the edge of the screen.
7. Wikidroid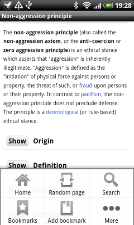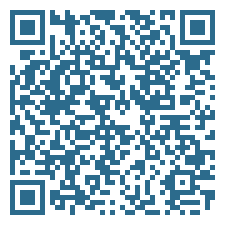 Wikidroid is a Wikipedia app for Android which allows searching for specific Wikipedia articles and displays them in a mobile-friendly view. Considering how much information exists in Wikipedia this app may be extremely useful when in need of quick research on particular subjects.
8. DiskUsage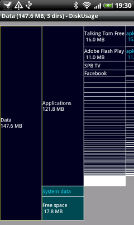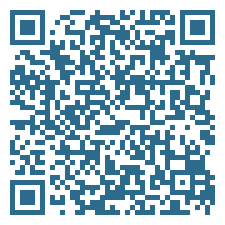 Depending on how much internal storage your Android phone may have (and HTC ones don't come with a whole lot) saving some space might be of considerable interest. Trying out various apps or copying entire music libraries to it could quickly drain the amount of available space. DiskUsage offers a very intuitive graphical overview of what takes how much space so you know at a glance what the priorities are when trying to free up some space.
9. Dropbox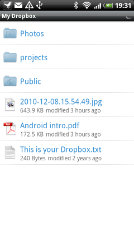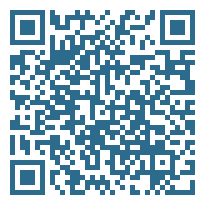 Dropbox is already available on a Windows PC, Mac, Linux and now Android which means you can upload and access your files from the cloud no matter where you are and what device you use. This slick Dropbox app will let you browse your files, and upload new ones. It will also let you get a public link of the newly uploaded files, just like its desktop variant.
10. CamScanner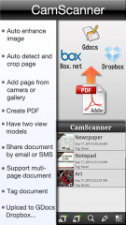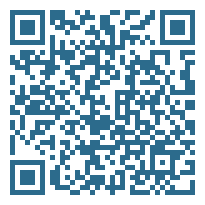 If you're like me and don't have a scanner, but occasionally need to scan some paper files this app is a life saver. You can use your camera to take a picture of the paper document, and then have CamScanner enhance it, making it look more like it was scanned with a scanner than photographed with a camera. It also lets you crop the scanned image so you get just what you need.
11. Winamp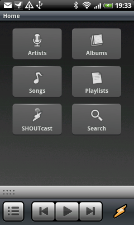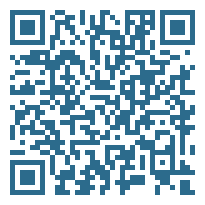 A popular music player can now rock on Android too, as a pretty good and slick looking alternative to the stock music player. It automatically creates playlists of recently played, recently added and top played tracks and lets you create playlists of your own. It also has a music search function, and a built in shoutcast Internet radio streaming feature. It is also possible to sync it with its desktop variant over a wireless connection.
12. TuneIn Radio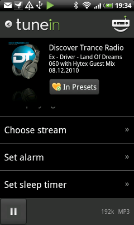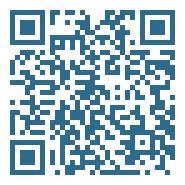 TuneIn app is an entire audio streaming center with music streaming, local radio streaming, talk and sports shows and podcasts. It can also browse by location and language. Stations can be added to presets for later easy access. When playing a currently active stream it features a "you may like" button which offers related suggestions, and you can also choose a specific stream over which a selected station is available, which adds flexibility for choosing an optimal stream without interruptions. Perhaps the most intriguing features are the alarm and sleep timer so the radio station can automatically stop playing after a selected amount of time, and can also be used as an alarm sound at a specified time. I couldn't ask for more.
13. AppBrain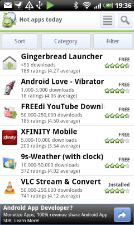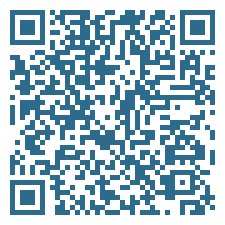 AppBrain is an app that complements the default Android Market app by adding the ability to browse by more categories, filter by free, paid, new, updated and even price reduced apps, and sort by many more options such as hot apps today, hot apps this week, highest rated, popular in a specific country etc. It also displays more information about the app in app lists such as the number of downloads and ratings. This makes it much easier to find interesting new apps to try out, but it goes even further by offering a Recommended Apps feature that suggests apps based on the ones already installed. AppBrain can also uninstall apps, or move them to an SD card to save space on the phone's internal storage.
14. Instant Heart Rate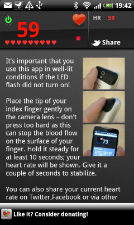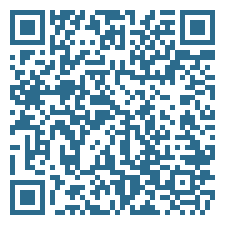 This one falls into the "I didn't know my phone could do that" category, which I revisit every once in a while as I discover apps that use phones hardware in new and creative ways. Instant Heart Rate can actually monitor my heart rate using nothing else but the phone's camera. All it needs me to do is put the tip of my index finger on top of the camera lens and it will read out my heart beats. It turns the LED flash on to ensure optimal lighting, but if a phone doesn't have a flash LED it recommends doing this in a well lit room. I can only assume that the way it works is by visually detecting subtle pulses in the fingertips which indicate heart beats.
15. Talking Tom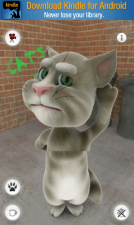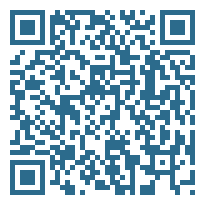 My baby nephew loves this one, as one might expect. Talking Tom is a cat that you can pet, kick, give milk to, and talk to. Whenever anyone says something to him he will listen, as shown in the picture, and then repeat it in his cutesy pitched voice. Kids should love it. My nephew ended up repeating the same thing over and over again just to hear the Talking Tom say it, and it does sound very hilarious.
There are a couple of other variants of this app featuring a Robot, and a Santa Claus, but none seem to beat the Talking Tom.
16. Google SkyMap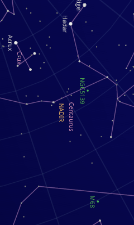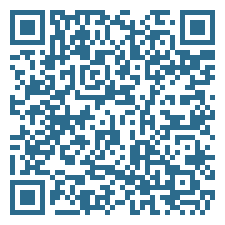 This app will tell you where the stars and planets in your sky are to be found by calculating your position relative to the position of Earth in space. It probably uses a compass and motion sensors to figure out where you are turning the device to and therefore show the correct patch of the sky. The map is configurable as you can toggle stars, constellations, messier objects, planets, RA/Dec Grid and the horizon. A red night mode is also available.
17. Shazam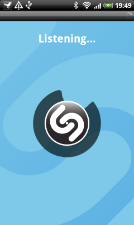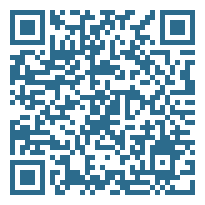 This popular app can apparently tell you what the song that is playing is called, in case you can't remember yourself. If you ever find yourself sitting in a coffee shop and hear a song you like, but can't remember how it's called this should come in handy. It probably works best with pop music though.
18. xPiano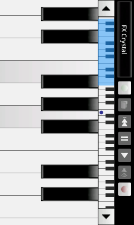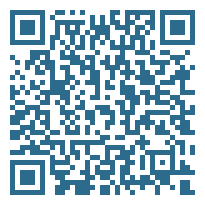 Just like the name says this app simulates a piano keyboard. It supports multiple octaves scrollable with a finger and a number of selectable tone colors. Played melodies can even be recorded and saved as midi files. Excellent for musicians wishing to experiment with new melody ideas on the go.
19. Ethereal Dialpad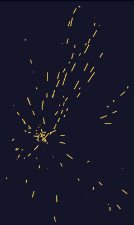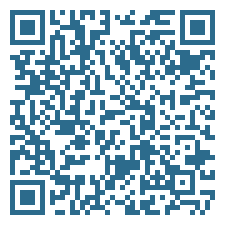 Just like that you can make some ambient music. This app changes the tone as you stroll over the screen giving you nifty visual effects in the process, from just changing the color of the screen to causing an entire swarm of dots to swirl around the focal point of your magical musical touch.
20. Metal Detector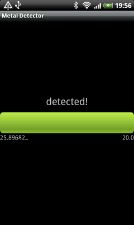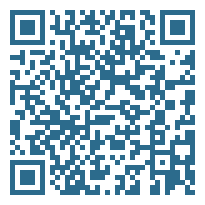 It seems hard to believe, but this app actually does what it says, to some degree. It uses the phones compass to detect metal, since the compass contains a magnet and magnets tend to like metal. I found it to be most reliable at detecting another magnet though.
21. Tricorder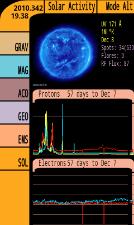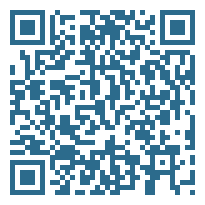 Here's a treat for all the trekkies out there. We should all know by now that all of these modern multitouch smartphones and tablets are pretty much exactly like the PADDs that were routinely seen in Star Trek, all but the original series. So why not complete the picture with an app that faithfully matches the sights and sounds of these trekkie devices while even managing to remain marginally useful by bringing together all the data that the phone's internal components can muster, such as acceleration measurements, "magnetic flux", geographical location, and even the current state of our sun. Perhaps most useful is it's ability to scan the "EM Spectrum", which is to say, detect available wireless and cellular signals and their strengths.
Last updated
.