Call centers are usually a centralized location or office where communications over a phone or Internet can either be received or dispatched. Call centers answer or dispatch large amounts of calls. Most call centers are set up for either support services, customer acquisitions, business to business marketing or direct response services, either way, call centers are now part of many businesses large and small to communicate with their present or potential customers.
If your company is interested in starting a call center, it is important to look into the different types of services that call center vendors provide. There are many factors that go into a call center, and some of the more popular services call centers offered are (ACD) automatic call distribution, computer telephone integration, do not call compliance software, fulfillment software (order processing, warehousing, shipping), hosted contact center, telemarketing lists, call monitoring for quality control, (PBX) private branch exchanges, predictive dialers, telephone systems for handling large volumes of calls, VoIP, voice mail, workforce management and scripting software.
Most companies decide to either start up their own call center or outsource call center services from a vendor. The main reason for call centers is to streamline business costs for providing customer service or to save money to market products and services to the general population or to a specific segment of the population.
Creating a call center is usually only for large or the largest corporations due to the fact that most call centers are located overseas in lower income regions of the world. Expertise and resources are needed to create call centers, hire labor, build facilities and work with the local government for legal compliance, telephone and Internet access and other services such as training and management. Usually it doesn't pay in time, effort and resources for most companies to create a call center from scratch. For most small, medium and large businesses, the best way to reap the benefits of call centers is to outsource them.
Many businesses outsource call center services. No matter what the industry or expertise needed, there are usually call center vendors that can help fill a business's needs.
For instance, most call centers with consult with your business to figure out which services you require most and how to get the most service and feature that fit within your budget. Once a list of services that are needed are established and a budget is agreed upon, call centers than contract with other suppliers or put their work force to work for your business.
Below you will find a description of many basic services that call centers provide: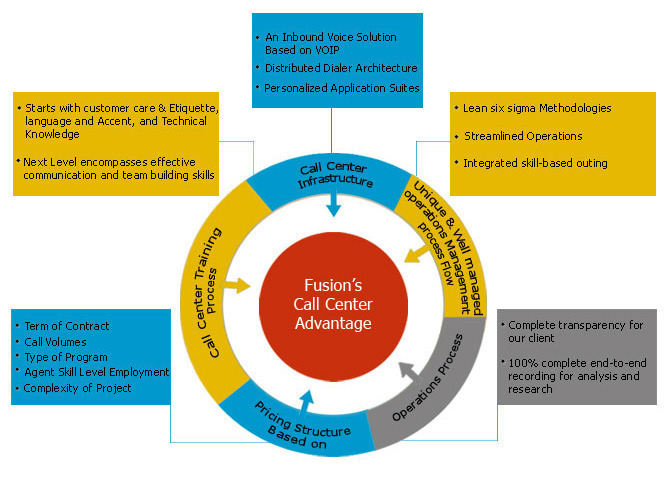 Automatic Call Distribution
One of the services that most customer support call centers provide is automatic call distribution. It does no good for one operator to be backed up with lots of phone calls while other customer service reps have no calls and are sitting around. Automatic call distribution software makes sure that your work force is being utilized efficiently. Not only will it make sure that calls are routed to the next available representative, but also make sure that calls that require specific knowledge or special services are routed accordingly.
Computer Telephone Integration
Most call centers have gone high tech. You won't find anyone working in a call center picking up a rotary phone, in fact, most customer service representatives or sales associates are tied into a computer network that givesthem information on the person calling, scripts that they should follow, support or sales information, access to shipping or other support information and access to a supervisor or manager. Hooking all these components together requires integration between phone lines and VoIP lines, internet, networks and various databases.
Do Not Call Compliance Software
When you hire a call center, you want to make sure that they follow local, state and government laws of the customers that you service. For instance, if you are a telemarketer, you can be fined for calling people that are on a do not call registry or by calling people in a specific time zone after a set time. Call compliance is extremely important and many call centers employ software and other checks and balances in place to make sure that they work within the law.
Fulfillment Software
Let's face it, most companies set up call centers to sell products, so the call center that they contract out or that they create must be fully equipped to make sales, process sales, update customers on shipping or billing questions and offer support or be able to transfer customers to a support system in place. Fulfillment software usually needs to be tied into a sales database which updates inventory in real time, as well as processes payments and notifies warehousing for shipment.
Telemarketing Lists and Predictive Dialers
If you have outsourced a call center to generate sales for your products, you probably have a telemarketing list or leads already set in place, as well as dialing software so that the telemarketing sales agent, doesn't have to look at a phone book, they can easily press a button and automatically move to the next call that is being connected.
Scripting Software
Did you ever call a call center for tech support and they sounded like they were reading information from a computer terminal, in fact they are. Scripting software helps representatives find answers to a customers questions easily, can help you solve a problem, can walk you through a series of steps to fix a problem with a piece of equipment you purchased and can entail protocol for a call to make sure that the customer receives the best service and support possible.
For telemarketing sales agents, scripts provide current information on products, along with information and answers to commonly or frequently asked questions. Since most call centers use computer monitors to give access to their representatives, most scripts are easily available on a variety of menus on the computer. Most of the time scripts are custom written for each product, as well as responses to frequently asked questions.
Workforce Management
As with any work place, management is necessary to keep labor focused and doing their job in a satisfactory way. Call center management is similar to other workplace management in that they make sure that there is enough labor available and that the labor force in place is trained adequately and meeting the goals of the call center. Workforce management is also needed to make sure that goals are being met including the number of calls being answered in a timely manner, sales being made, support issues being satisfied and that ultimately customers are satisfied with the service.
If you are a small, medium or large business looking to add a call center either for sales generation, sales support or technical support issues, take a look at the above list of services that are usually offered.