CISPA: The US Government's Death Knell for Online Freedom
The Cyber Intelligence Sharing and Protection Act (CISPA) is a remodeled version of the earlier accursed Stop Online Piracy Act (SOPA), both counseled by the US Government.
CISPA was first introduced by Michael (Mike) J. Rogers (US representative for Michigan's 8th congressional district, member of the Republican Party and Chairman of the Permanent Select Committee on Intelligence) on November 30, 2011 along with 111 other co-sponsors.
The publicly showcased objective of CISPA is to allow the sharing and sniffing of online data between the US Government and few companies in the technology and manufacturing fields; with the quintessential intention of investigating cyber threats and guaranteeing the security of various networks against cyber warfare or Internet vandalism.
However healthy and salubrious the manifestation of CISPA may appear to the public, the hidden and concealed motives of the US Government are definitely sinister, pretentious and detrimental. The passing of this act will undoubtedly give the US Government absolute and boundless power to covertly spy and use the online data to their personal advantage. This is because the proposed CISPA act simply does not outline as to how and when should the US Government be allowed to access someone's online data.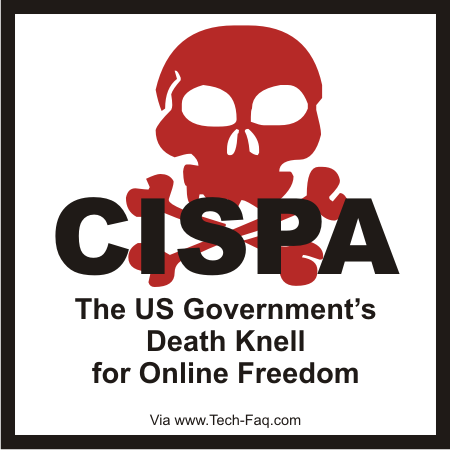 CISPA has an extensive and disturbing reach that goes way beyond Internet security. It is a deeply flawed bill whose approach is not clearly defined and contained.
It is said that amendments to the proposed CISPA bill are being constantly created, but many argue that these are just cosmetic and factitious. Sharan Bradford Franklin, of the Constitution Project, claims that the present CISPA draft does not cater to the threats posed to civil liberties, which consequently will make the bill less desirable. Rainey Reitman, of the Electronic Frontier Foundation, also postulates that the makers of the CISPA bill do not rationally respond the ongoing criticism and the reformations are merely phoney exhibits.
The opposition to CISPA is spreading like wild fire on Twitter too. Many celebrated Twitter profiles have shown their resistance via the #NoCISPA hashtag.
Internet Activists Deliver 300,000 Anti-CISPA Signatures to Congress on.mash.to/VW6SQ8 #NoCISPA #EFF #OWS #Anonymous

— AnonymousIRC (@AnonymousIRC) February 17, 2013
None of us is as unforgiving as all of us. #CISPA, Expect Us.

— Anonymous (@YourAnonNews) February 19, 2013
SOPA was a failed attempt by the US Government to stop online piracy. Every reasonable citizen and Internet user disfavored it. CISPA is yet another false effort under the disguise of stopping online piracy and intellectual property theft.
It is terrifying to see how quickly the US Government replanted this new threat, in spite of the huge repulsion and protest for SOPA and PIPA. This clearly shows their yearning for control and power.
Benjamin Franklin rightfully quoted: "They who can give up essential liberty to obtain a little temporary safety deserve neither liberty nor safety."
We, at Tech-Faq, firmly believe in freedom, openness and liberty for every human on this globe. Because actions executed in the US do not stay confined, they successively affect millions of people worldwide. We therefore righteously and strongly condemn these heinous and self centered legislations like CISPA and SOPA.
Rise up in support of #NoCISPA by filling the form below:
CISPA: The US Government's Death Knell for Online Freedom

,