ComboFix is a legitimate spyware remover. It was designed to specifically target spyware like SurfSideKick, QooLogic, Look2Me, as well as any combination of the mentioned spyware applications. With its built-in engine that removes Vundo infections, it can also take charge of the latter but not all of them.
Besides this, ComboFix has other built-in utilities that make it capable of unhooking any .dll file within the Windows System 32 folder. This enables the user to achieve personal access to the folder.
This ComboFix ability allows the manual removal of spyware infections that took refuge inside the folder. ComboFix acts as a specialized effective cleaning tool, which has proven to be very useful compared to other malware removers that also clean up infected computers.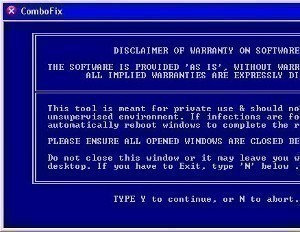 ComboFix also has a Command Line interface that allows users to terminate up to eight files at a time. Its built-in engine for file deleting enables the user to also delete other files, especially the locked hidden files instead of deleting just the infected ones.
Although ComboFix is very useful for spyware infection removal, it has limited functions. It was only designed for specific infections, thus making it incapable of eradicating other evolving computer viruses.
This application needs constant updates from the Internet to have the latest protection. In fact, ComboFix should not be used on computers that have a specific rootkit because it will prompt ComboFix to delete all files from the system drive.
Certain precautionary measure should always be taken when using ComboFix. If one of the spyware applications mentioned above caused the computer problems, then this program can be used to get rid of the spyware infections. This is the only time that ComboFix should be used.