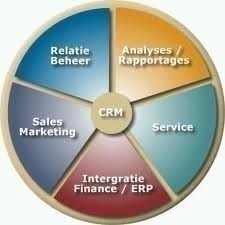 CRM software helps organizations implement effective Customer Relationship Management (CRM).
CRM itself is not a software application, but is instead a strategy for doing business.
CRM methodologies are focused on building individual customer relationships for the purpose of creating and maintain a loyal customer base.
CRM software works across all corporate departments to help harmonize customer-centric thinking in the entire organization.
This interdepartmental cooperation also reduces cost, increases efficiency, and improves customer satisfaction.
CRM Software
Many commercial CRM packages are available on the market.
These open source CRM packages represent an alternative to the commercial CRM software offerings.
The open source CRM software packages are highly rated by their users and compete quite well with the commercial products.
opentaps Open Source ERP + CRM brings you the advanced features and power of Tier 1 ERP and CRM software with the flexibility and low cost of ownership that only open source can deliver. You can use opentaps as an alternative to expensive and inflexible commercial ERP solutions, as a replacement for in-house solutions that are difficult to maintain or extend, or as a starting point to build your unique business model and processes.
Key features of opentaps Open Source ERP + CRM include:
A complete suite that deliver a 360-degree view of your business, from customers to orders to inventory to accounting. opentaps is one application running on one unified data model with over 700 tables, so you'll never have to do messy integration again.
Compatible all major open source and commercial relational databases, including MySQL, PostgreSQL, Oracle, Sybase, and Microsoft SQL Server.
Runs on Linux, Unix, and Windows operating platforms.
Service-Oriented Architecture for easy interoperability with external or legacy applications.
Modular and tiered architecture allows for easy modifications or additions. An add-on application could be unzipped into a directory and start running.
Remote and local synchronization for scalability and high availability.
Workflow for adapting to unique business processes.
Tunesta
Tustena CRM OS (OpenSource) is a free, web-based Enterprise-Class Customer Relationship Management server written in C# for the .NET platform.
Tustena offers many advanced features like:
Company and Contact Management
Lead Management
Calendaring
Tasks
Notes
Messages
Opportunity Management
Activity Management
Advanced Search
Charting
Case / Solution Management
Reporting
Internationalization
Companies, Contacts, leads and activity Import
Advanced Reporting
Product Catalog
Email Marketing and Mailing Lists
Mobile/WAP Access
.Net WebServices
Forecasting
POP3 email manager via WebMail
Voip Integration
Microsoft Outlook Email Integration
Desktop Alerter
Quotes
Knowledge Base
Dynamic Databases
Trouble Ticket Management
Compiere is an integrated Enterprise Resource Planning (ERP) and Customer Relations Management (CRM) software solution that combines the power of point of sales (POS), distribution, inventory, e-commerce, accounting, and workflow systems within one robust application. Compiere is fully customizable to your enterprise and was created to handle the challenges of global commerce.
vtiger CRM is an enterprise-ready Open Source CRM software mainly for small and medium businesses. vtiger CRM is built ove proven, fast, and reliable LAMP/WAMP (Linux/Windows, Apache, MySQL, and PHP) technologies and other open source projects.
vtiger CRM leverages the benefits of Open Source software and adds more value to the end-users by providing many enterprise features, such as Sales force Automation , customer support & service , marketing automation, inventory management, multiple database support, security management, product customization, calendaring, E-mail integration, add-ons, and others.
vtiger CRM software installation is very simple as all the necessary software, such as Apache, MySQL, and PHP are integrated and executables are made available both for Windows and Linux (RedHat, Debian, SuSe, Fedora, and Mandrake) operating systems in SourceForge.net. You need not concern too much about setting up database, Web server, and other software.
vtiger CRM also provides, enterprise grade business productivity enhancement add-ons, Customer Portal , Outlook Plug-in for Microsoft Outlook users, Office Plug-in for Microsoft Word users, and Thunderbird Extension for Thunderbird mail users. All these add-ons are part of the vtiger CRM Open Source project in SourceForge.net
XRMS CRM is an extensible Customer Relationship Management (CRM) system that enables your organization to successfully become customer-focused.
XRMS is a fully-integrated suite of web-based tools for Customer Relationship Management (CRM), Sales Force Automation (SFA), and Business Intelligence (BI) tools.
Use it to integrate and manage your sales, service, and marketing data in a single information store. XRMS has the enterprise capabilities to become a single system of record for storing activities, files, and other interaction data with your customers, employees, partners, and prospects. And, it is easily extensible to support your own processes and procedures for interacting with and supporting your customers.
Why does XRMS make sense for so many businesses? Here's some of the features that our community likes:
Low infrastructure requirements
Community-driven Open Source
Enterprise-friendly licensing terms
Clean data model for easy integration and migration
Configurable, integrated workflow engine
Configurable look and feel (themes)
Translations for more than 20 languages
Role-based security
Database independence
Shared calendar
Plugin architecture for seamlessly integrating add-ins
Extensive search
Document management
CTI and email integration
Relationship tracking
Customizable views
Business intelligence
Sugar Open Source enables sales, marketing, and support organizations to manage their customer interactions more efficiently and profitably and is intended for both large and small companies worldwide. Platform agnostic, Sugar Open Source is the least complex, most portable, and most cost-efficient customer relationship management (CRM) solution. Natively built on the LAMP (Linux, Apache, MySQL and PHP) stack, Sugar Open Source can be deployed in virtually any environment.
CRM is a mature and cost-effective endeavor, but traditional, proprietary applications are still expensive to buy or rent. It's not because it's costly to build great CRM applications, but because those who provide proprietary CRM are required to market and sell them. When you build a commercial grade CRM application based on the combined ideas and resources from CRM developers across the globe, you simply produce a better, more revolutionary product than any proprietary software or hosting company can think-up and build on its own. We believe the SugarCRM open source business model is far more efficient than the classic approach to building proprietary CRM software. We do not believe in the notion of hiding access to code in orer to lock-in customers.
Since the open source project is such an effective marketing mechanism, open source companies can keep their sales and marketing costs low. Revenues are invested back into product development. Our prices are substantially lower than what CRM vendors charge today – the majority of your subscription costs goes back into product development, not into marketing and selling the solution. Download and install the freely distributed Sugar Open Source application. If it works for your company, we ask that you participate in the SugarCRM Community through forum discussions or code contributions. If you need the functionality in Sugar Professional or Sugar Enterprise, give us a call. We want you to become a customer once we have proven we have generated value for your company, not one minute sooner.
Ohioedge CRM Server is an online CRM application designed for $2-500M organizations requiring centralized, multi-functional, enterprise-wide coordination of sales generation (contact management) & fulfillment (business process/workflow management) activities.
openCRX is a professional CRM solution (customer relationship management) deployable to all major platforms. openCRX is multi-entity enabled, scalable, a real enterprise-class CRM-solution.