In order to appreciate the full details of a specific selection of information, companies must use data profiling software to analyze the data in question. Data profiling software is excellent for when you want to know more about the quality of the data that you are working with in order to maximize data potential and ensure that the data is organized correctly. In this article, we will go over data profiling and review a number of data profiling software.
What is Data Profiling
Data profiling is used to ensure file integrity and affirm that the information displayed in a file is correct. Data profiling software allows the user to decide whether the information in a file can be used for other applications, tag specific keywords or put information in separate categories, ensure that the information is presented in the proper fashion, decide how much of a risk it would be to integrate your data with other applications, decide whether metadata is correct, evaluate the difficulty of the project in question, and to simply view all information at once.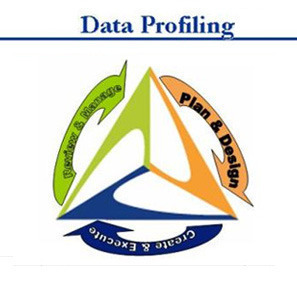 Popular Data Profiling Software
Data profiling software is available all over the place but is often overlooked. Many other data-related software include data profiling functions within their applications and sometimes software is exclusively for data profiling. To make it easier to spot data profiling software, we have compiled a brief list of programs below.
Trillium Enterprise Data Quality
Trillium Enterprise Data Quality is a powerful tool for businesses and organizations that allows you to maintain constant data quality. The application is built to be user-friendly and does not take too long to integrate with your other data maintanence software. Trillium Enterprise Data Quality scans your current systems for all the data you need it to manage and then runs continual scans to make sure all of the data is consistantly updated. Trillium removes any double entries in your system's data warehouse and flags data that is unreadable. The program also allows you to separate your data into separate categories so that it can be easily found and modified if need be. With Trillium, you will also receive update reports and statistics about your information on a regular basis.
Datiris Profiler
The makers of Datiris Profiler understand that your data is critical to your business success. Therefore, they made a program that can manage your data without any input or oversight from the user. You can set the program to run on specific default settings so that you can worry about running your business and not about managing your data. Datiris Profiler can scan your system in a matter of minutes and make decisions based on your settings. Datiris Profiler doesn't come cheap but it comes with many features that other data profiling services either do not possess or do not have at the same level that Datiris Profiler does. These features include a powerful metric system that allows you to view your data from multiple perspectives, compatibility with a large number of other programs, domain validation, pattern analysis, the ability to see your data in real time, batch profiling, command line interface, conditional profiling, profile templates, profile spreadsheets, and data definitions.
Talend Data Profiler
The Talend Data Profiler is a free, open source data profiling solution that is gaining popularity across the Internet. While not as powerful as Datiris Profiler or IBM's Information Analyzer, the application has more than enough to get the job done. Talend Data Profiler is great for small businesses, work-at-home freelancers, and non-profit organizations.
IBM InfoSphere Information Analyzer
The InfoSphere Information Analyzer provided by IBM is yet another powerful data profiling software available to organizations, businesses, and the general public. Information Analyzer provides a deep scan that checks every system that you connect it with in a matter of moments. With Information Analyzer, you not only receive the data profiling mechanisms that drive this application, but also several other important software platforms that are integrated into the program. You receive the data profiler, the IBM InfoSphere Security Framework, a scanning scheduler, as well as a number of functions such as reports, source system profiling and analysis, excellent flexibility to fit your needs, rules analysis, user annotations, and consistent common metadata across all other IBM InfoSphere products.
Oracle Warehouse Builder
While not strictly a data profiling software, Oracle Warehouse Builder allows you to build your own data warehouse from scratch without knowing all the technical details like programming. Included in its many add-on features, data profiling comes with the application to allow you to build a data warehouse that is capable of providing "clean" data.