Data warehousing software is quickly on the rise to becoming one of the most needed forms of software on the market today. As more and more companies convert their brick-and-mortar foundations into cyber empires, the majority of information is now digital. Data warehousing software allows for these companies to manage their information by using various business tools to edit data and then store it in one central location that all parts of the company can access. In this article, we will discuss data warehousing and popular data warehousing software.
What is Data Warehousing
Data warehousing is a broad term that covers data storage, business intelligence tools, ETL software, data analysis, reporting tools, and various other software that allows you to retrieve and edit information. Data warehousing is essential to the survival of many ecommerce companies that thrive on organized data. Data warehousing is most prominent in organizations that use multiple subdivisions and subsystems to manage their information. Data warehousing software allows the user to keep track of all of this information in one place and update whenever necessary.
Popular Data Warehousing Software
The following programs are very popular data warehousing systems that include data storage, ETL tools, business intelligence tools, reporting, and analysis. Many of these programs are award-winning software that has been certified and approved by various organizations to meet consumers' needs.
IBM InfoSphere Warehouse
IBM InfoSphere Warehouse is one of the most powerful data warehousing services available on the market today. InfoSphere Warehouse comes in many versions that offer unique functions to various parties, although the software is comprehensive enough to use any edition to solve your specific business needs. InfoSphere Warehouse allows you to not only store information but to also analyze it and modify it using ETL tools that come with the software. IBM InfoSphere is scalable to any project and has been awarded on multiple occasions for its user-friendliness and efficiency as a data warehousing program.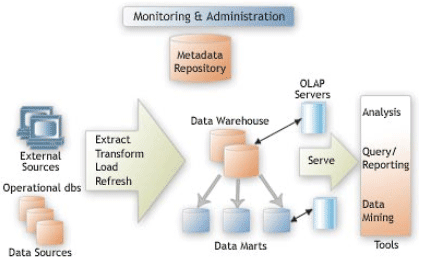 WhereScape
WhereScape isn't so much as a data warehousing program but rather is a tool used to create and modify data warehousing software. WhereScape allows the user to design their own data warehousing software through the use of easy, drag-and-drop solutions and tools that walk you through the steps of creating the system. Likewise, users can also use WhereScape to modify an existing data warehousing program to fit their specific needs as well as the needs of their customers. WhereScape allows you to build your system, modify, present it to your users, and then modify it again until it is perfect. WhereScape is capable of being integrated with other data warehousing and analysis software and it is also able to run on almost any operating system as well as a number of management systems.
Sybase IQ
Sybase IQ is a database and data management software that is used to speed up data mining across multiple platforms while simultaneously providing the user with analysis tools and reporting capabilities. Sybase IQ uses grids and columns to properly document your information thereby decreasing the time it takes to locate your data significantly. Sybase IQ was designed from the beginning to interface with a number of other data managment software which makes this program different from any common data warehousing technology.
PeopleSoft Enterprise Warehouse
PeopleSoft Enterprise Warehouse offers tools and functions that aid small businesses and corporations in accessing their data. PeopleSoft Enterprise Warehouse is used by thousands of enterprises around the world to store, analyze, and modify information. This data is crucial to their success as a company so by accessing this data faster, companies are able to improve the quality of their products and services, offer their customers better support, and make more money. PeopleSoft Enterprise Warehouse helps them do that by organizing their data in ways that is easier to locate and then presenting the user with options for editing that information.
EHDP
EHDP, or Expert Health Data Programming, is a data warehousing program specifically designed for the medical industry. EHDP runs directly on the user's desktop and includes a number of tools that help to analyze information. EHDP presents graphs, rates, charts, maps, and tables for you to easily access and modify to fit your medical needs. EHDP is used for making an assessment of community needs, cleaning data, converting information from one format to another, storing data, collecting data, making decisions, analyzing health surveys, organizing medical information, analyzing public health concerns and data, and forming statistics to help you with your medical work.