Closing a GMail account may be required for several reasons. People who create a Gmail account and no longer need it may want to close it. Closing a GMail account only takes a moment if these steps are followed:
Step 1 – Getting Online
Go online and open a Google browser. The Google.com address is usually the simplest to navigate from.
Step 2 – Signing into Google Accounts
Click the "Sign In" option in the top right corner of Google. This will prompt you to sign into your Google account.
Step 3 – Locating Account Settings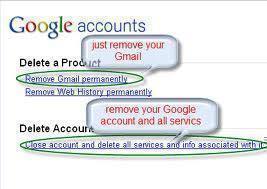 Once you have signed into your Google account, you will be able to select the "Settings" tab available at the top right of the page. The tab will open into a drop down menu. Select "Google Account Settings" it should be one of the settings available in this tab from any of the Google services that you are logged into.
Step 4 – Changing My Products Settings
You will be taken to a page that has your Profile, Personal Settings, and Google Products available with your account. The My Products section will list the services that you can change on your Google account. Find the "Edit" link next to your "My Products" section and click it. This will take you to the edit page.
Step 5 – Delete GMail Account
The links associated with the products on your account that you can permanently remove are located on this page.
Select the "Remove Gmail Permanently" link from the list and you will be taken to the page where you will finalize the deletion. You will need to read a message from Google that tells you about making the Gmail removal final.
Mark the selection box that confirms GMail's removal from your Google account. Put in a new email address so that you can access your Google account if you still have services that you wish to use.
Input the current password to finalize the step and click on the "Remove GMail" button to complete. Your GMail account should now be removed permanently.
Note: Once you remove your GMail account, you will still be able to create another through your Google account. You will not be able to reselect your username when recreating an account nor will you be able to access emails that were sent to your account when the account was closed. On rare occasions where malicious activity (such as hacking) caused the removal of an account, Google may allow the account to be restored before a period of time. The account will be closed completely unless there is a legitimate reason for it to be restored.