DJs vs. the Phase Out of the Compact Disk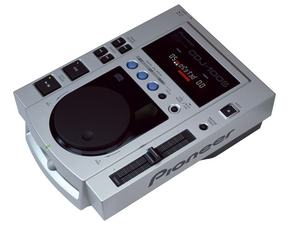 It is interesting how luddite the world of DJing can sometimes seem considering how electronic their music is.
When optical discs (or CDs) were emerging on the scene we had many DJs resisting the trend believing that CD technology makes things too easy compared to what is required to physically manipulate a vinyl record. They also romanticized about CDs removing the ability to "touch the music" that is playing like they with vinyl. I suppose they were oblivious to the fact that they weren't quite touching the music given that vinyl too is just a medium, and not the music itself.
Today, CDs are well accepted and indeed standard among DJs and clubs all over the world. There are still plenty of vinyl die hards, but CDs have lost a lot of their initial stigma.
Just as this has happened though, we are facing an emergence of a yet another new paradigm, and it is causing a similar kind of ruckus among DJs as the transition from vinyl to CDs did. Namely mp3s and digital DJing via a controller connected to a laptop running DJ software such as VirtualDJ or Traktor.
Again the arguments are very similar. It is said digital DJing is "too easy", that software does it all for you, and holds your hand too much with features such as BPM counters, wave forms and even the sync button. This time, they oddly enough sometimes romanticize about having to lug crates filled with CDs as opposed to a laptop or a hard drive storing all of their music. It is as if art somehow requires inconvenience.
Right now, CDs still dominate in clubs and most DJs still use them, but there is a process under way which may require this to change. Consumers are using and requiring optical drives less and less, and Apple (which has an acute tendency to anticipate and adapt to future trends) is already preparing a post-CD world. Apple may be the first to do this, but they aren't the only ones dabbling with it, and are unlikely to be the only ones to actively push optical storage out.
You may have already seen a pundit ask this rhetorical question before, but when was the last time you actually needed an optical drive, and how often does that happen? I would bet that it is precisely DJs who are among the biggest, if not the biggest, users of optical drives of all still burning those CDs to play them on their Pioneer CDJ players.
What happens when the industry moves on? A recent MacBook Air refresh makes it powerful enough to rival Apple's MacBook Pro line of computers for every day users, and it has an irresistibly low weight and thin profile, not to mention a screaming fast SSD drive that more than makes up for a somewhat lower CPU performance. Most importantly it does not have an optical drive, and most notably, few will probably care.
Other companies are making ultra-portables with similarly attractive performance offerings, and just as nonexistent optical drives, and more and more people are buying such computers.
I suppose it might be a long time before it becomes hard enough to find an optical drive for DJs to really start feeling the pinch, but that would be a simplistic way of looking at it. As the rise of digital DJing demonstrates the trend away from optical disks is affecting the DJ industry as well. All those DJs are computer users too, and they too might want to trade away an optical drive for a more portable computer that still does everything they need it to. When faced with such a trade off all that DJ software and consoles become quite appealing.
Besides, it is not like arguments against digital DJing make much sense, especially considering that CD players themselves are evolving to a point of being just as powerful and just as helpful and dare I say "convenient" as software running on computers. Latest Pioneer CDJ players feature super-precise BPM counters, wave forms, and even sync buttons, pretty much equalling the helpfulness (or "too easy"-ness") of DJ software.
It is the beloved CD itself which is being cannibalized by this evolution of technology, so switching from them to a diskless paradigm doesn't even make all that much of a difference anyway. The only way for those who have a problem with such new features to stand their ground is to grip on to outdated CD players and claim that that's what "real DJs" use.
Finally, the argument that new technology makes DJing "too easy" is quite flawed, and seems to miss the point that even experienced old school DJs often stress, which is that DJing is ultimately about knowing your music, the art of reading the crowd, and selecting the right tunes, not to mention being a good entertainer. What tools you use to play and mix the music is actually the minority of what makes a true DJ who he is. Sure, anyone can hit the sync button and mix two tunes together "like a pro", but not everyone can create a great set that molds the emotion of the target audience into an unforgettable journey. Furthermore, those serious and passionate about their craft will want to challenge themselves, which can involve imposing limitations regardless of what technology offers. It's common for digital DJs to never use the sync button.
Then there is the fact that more technological tools also offer more possibilities. There is something to say about the trend of mash ups replacing "mix tapes". When you have more technological power at your finger tips, you can do more, and more is expected of you by others if they are to value your service. In other words, it isn't that new technology is making DJing easier so much as it is pushing it on to the next level at which what used to be "amazing" no longer is, because now you can do so much more.
This makes for a great reason for DJs who truly care about their profession to embrace new technology as opposed to trying to stall or badmouth its progress.