DMADV is one of two major methodologies of the Six Sigma system. The Six Sigma system is a way to improve processes in work and manufacturing and its main goal is to eliminate defects. The Six Sigma methodology has been widely used by many Fortune 500 corporations with amazing results and can be used in small groups to achieve goals or on a corporate level affecting tens of thousands of workers. The short definition of the Six Sigma system is a set of practices that improve efficiency and remove defects.
The Six Sigma system has been around for over 20 years and was built upon the TQM (total quality management) and Zero Defect principles. It strives to achieve high quality manufacturing and business processes by continued efforts to reduce variations.
The major methodology of Six Sigma states that in order to eliminate defects or variations, processes used in both business and manufacturing must be measured, analyzed, controlled and improved upon. In addition, Six Sigma requires a sustained commitment from a small group or an entire organization.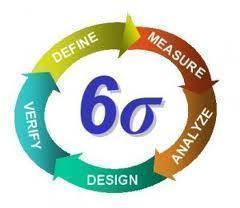 Six Sigma refers to a defect level of lower than 3.4 defects or variations per million opportunities. Its name and actions strive to achieve high quality output. The Six Sigma methodology has been extremely successful throughout the business world and has helped companies save billions of dollars through enhanced productivity and a reduction of defects. The Six Sigma system was originally started by Motorola and is a trademark of the Motorola Corporation.
There are two major methodologies in the Six Sigma system, they are DMAIC and DMADV. In this article, DMADV will be covered. DMADV is an extremely effective way to create a new product or a new process design. This methodology's goals are for its designs to be predictable, and defect free. There are five steps in the DMADV process, they include; Define, Measure, Analyze, Design Details and Verify the Design. Here is some more information regarding each step.
Define: In the first step, you must define the design goals that are both consistent with your customer's demands and your own company's goals.
Measure: In this step, four things should be measured. They include, CTQ's which stand for critical to qualities, production process capability, risk assessments and product capabilities.
Analyze: It is important to use the process of analysis to develop and design better alternatives that can reduce defects. These designs must be evaluated for their inherent capabilities to determine whether the design is the best available or if an alternative can be created which may be better.
Design Details: In this step a design must be optimized to function at its peak. In addition, in order to optimize a design, a design must usually be verified. While verification is the last process, during the design details step, a design plan should be readied for the next step.
Verification: Once a design has been analyzed and tested, it should be verified. Verification usually occurs through pilot runs. As a design is verified through the pilot run, it can be readied for full production.