Does Flash Need to Die?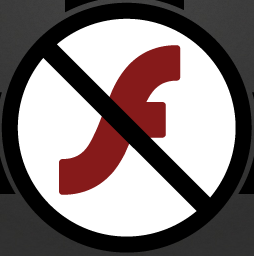 Adobe recently announced that they are abandoning further development of the Flash Player for mobile devices. Instead they will focus on the development of native apps built with their AIR framework.
This comes just a year and a half after late Steve Jobs' famous "Thoughts on Flash" when he essentially locked Flash out of all iPhones and iPads, angering Adobe and its fans in a major way. If he were still alive I bet he would've been saying something to the effect of "I told you so".
Killing mobile Flash casts a considerable shadow of doubt on the future of Flash on the desktop. The reason could be the fact that mobile devices are where most of the growth happens, and now that mobile development will primarily focus on HTML5 there is less chance that most developers will be inclined to support both HTML5 and Flash. They might opt to go for HTML5 all around instead.
All this has spurred someone to create "Occupy Flash", a campaign to rid the world of the Flash Player plugin once and for all. It somewhat resembles a similar campaign to end the use of the defunct Internet Explorer 6 plugin.
To be perfectly honest, I cannot wait to see Flash die off completely, and I've been tempted to title this post something like "Flash Needs to Die" instead of framing it as a question.
There is plenty of reason to hate the Flash Player. It is proprietary, and up until Chrome started the trend of embedding it into the browser itself, it was a nuisance you had to install and upgrade manually yourself. It is also pretty heavy on resource usage, heating up our laptops more than anything else we might run in a browser, slowing things down, and even crashing. Adobe also hasn't been all too kind to Mac and Linux users who have typically had an even worse experience.
It seems as if the only reason we ever even put up with this thing is because of all the flashy stuff it allowed us to run in the browser. It is no wonder then that so many are eager to drop it the moment they saw an alternative that seems poised to offer similar functionality with virtually none of its negatives. That would be HTML5, of course.
The reason why I still frame this as a question, however, is all those nagging by Flash supporters who say that HTML5 doesn't quite duplicate all of the functionality and robustness of Flash. Then there are many who point to specific web sites who offer critical functionality that depends on Flash, seeing it as a major reason not to drop it just yet.
These would suggest that dropping Flash completely right now would be premature, that we need to wait for HTML5 tools to become more powerful, and for vital sites that depend on Flash to completely switch over.
On the other hand, all of this could happen more quickly if there was a considerable populous push to get rid of Flash. Adobe itself is putting more focus on developing more powerful HTML5 tools, and this could help sites which still use Flash to switch over more quickly. If a lot of people start demanding Flash-free sites it could help further incentivize these efforts and accelerate the process.
Addendum: I've decided to disable Flash in my web browser and try going without it. YouTube HTML5 works really well, which means a lot. As for the sites which now tell me I need to install Flash to play their videos, this time around I'd like to tell them they are the ones who need to upgrade, not me. Either they stop using Flash or they lose me as a customer. The more people do this the less choice they will have but to stop requiring Flash.
Does Flash Need to Die?

,