The iPhone has continued to expand its user-base by offering them the ability to talk, email, chat, text, and surf the Internet on a single device. Unfortunately, many iPhone users lose or break their phones, which results in a loss of valuable data. Thankfully, users have the option of backing up all of their phone data, contacts, etc. on their computer in case something happens to the phone. There are also many third-party applications on the market that can be purchased to backup texts. However, the cheapest way to access iPhone SMS texts is by retrieving those that were backed up on the computer.
How to Backup iPhone SMS
Step 1 – Connect your iPhone to the computer with the USB cable.
Step 2 – Open iTunes (it it does not automatically open when the iPhone is connected to the computer).
Step 3 – Choose your iPhone model from the list under the "Devices" section of the left-hand menu on the iTunes main page and right-click the phone. Then, click "Back Up" to backup the iPhone's SMS messages and other data to the computer.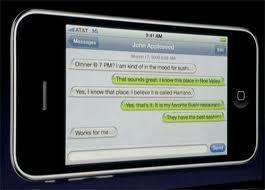 Step 4 – Disconnect the iPhone when the backup is completed.
Step 5 – Open the following folder on the computer in Windows Explorer on a PC and use the "Finder" or equivalent file viewing application on a Mac:
Windows XP or Lower:
C:Documents and Settings[your username]Application Data
Windows Vista / Windows 7:
c:UsersYour UsernameAppDataRoaming
Mac OS X:
User>Library>Application Support>Mobile Sync>Backup>[id]
Step 6 – Locate the file with .mdbackup or .mddata file extension in this folder. In Windows, the user may need to modify the "View" settings of the folder to show "Hidden" or "Read Only" files. The file will be prefixed with a file name similar to: "3d0d7e5fb2ce288813306e4d4636395e047a3d28" and will contain the backup of the SMS data from the iPhone. Note, if the encryption is set on the iPhone, the user will be unable to view the SMS backup file.