MSN Messenger is a free Instant Messaging system that the Microsoft Corporation provides.
MSN Messenger is similar to AIM (AOL Instant Messenger), ICQ, Yahoo Messenger, and Google Talk.
How to Change an MSN Messenger Password
The way to change an MSN Messenger password is to change the Microsoft Passport password.
Changing the Microsoft Passport password will change the MSN Messenger password, MSN password, and Hotmail password.
How to Change a Microsoft MSN Messenger Password
Login to Microsoft Passport
Go to the Microsoft Passport Network: Account Services Home page
Select the Credentials menu
Select Change your password
Enter the old MSN Messenger password
Enter the new password
Reenter the new password
Press Continue
Enter an alternate e-mail address, if available
Reenter the alternate e-mail address if it was entered above
Press Continue
Press Done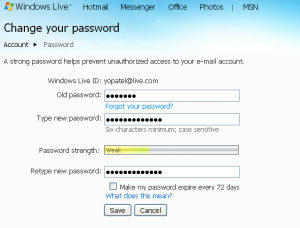 MSN.com, Microsoft's all in one online network, has been completely revamped and updated to provide everything the user could possibly want in a home port. Best selling author Doug Lowe's book, MSN.com for Dummies, discusses the bounty of features that make users keep coming back to MSN.com.
Get the MSN basics with an overview of its features and an overview of connecting to the Web with MSN Internet Access.
Dive into personal communications features such as free e-mail, Web communities, online chatting, newsgroups, and instant messaging.
Explore the fun side of MSN with games, shopping services, and vacation planning.
Dig deep into MSN's most useful online services: MSNBC, Encarta, Investor, and CarPoint.
Build one's own home page.
Take a close look at security issues concerning kids on the Web.