Movie lovers may like a movie on a DVD and want to copy it to a blank DVD to save the cost of buying the original DVD. With the help of DVD burning software such as DVD ripper, copying a DVD is possible. Most DVD ripper software is shareware, which means that it can be tried for free for a limited period, after which the user must pay for the full version.
DVD Software for Conversion
Software like Clone DVD can copy DVD movies with a single click. Users can even use it to copy DVD movies to their computer and iPod. Most of the software for copying DVD movies are in multiple languages. Anyone who has the latest Windows Vista operating system must check that the software is compatible with it.
Security Settings
If someone attempts to copy original movies with software like Nero, he/she will see that copying is not allowed if the DVD is protected with either, RC, CSS, or UOPS technology. However, with special DVD ripping software, it is possible to remove this protection (the software removes protection automatically) and copy movies freely.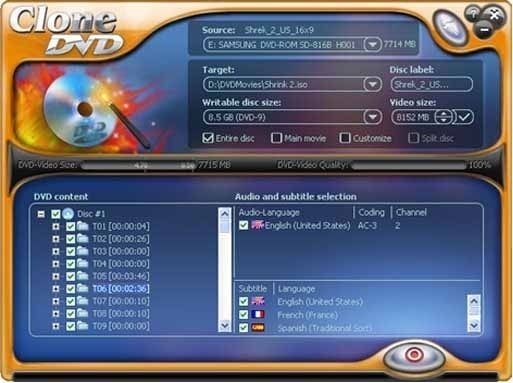 Copying DVD Movies on Other Devices
As mentioned before, users can now also copy DVD movies on portable devices such as an iPod, smart phone, or Sony PSP. Users can even convert the DVD format into another format such as MP4, AVI, or ASF. Users can copy the original DVD movie in multiple copy modes such as copying the entire DVD disc, the main movie only without the extras, or just a part of the movie by selecting the split movie feature. Most software are compatible with all single layer DVDs as well as the dual layer ones. The copied video can then be played back on the computer, DVD player, or a portable device.
User Friendly Software
DVD copying software is extremely easy to use. When all the settings have been configured correctly, copying DVD movies requires just a single click. Trial software may contain a watermark that is included in the converted movie, but the paid version of the same software will not include any watermark and the movie copied will be the same as the original. Users can split the movies to double layer DVDs, copy them to two single layer DVDs, and quickly copy region-protected DVDs as well. The movie format that is finally converted can be in a different format such as AVI, 3GP, MP4 for Apple or Sony, and even MPEG4.
Short Time to Copy
Copying DVD movies is very easy at present. The movies can be copied in a very short amount of time and users do not have to spend much money on buying the original DVDs. Users can simply buy a blank DVD and copy movies from the original DVDs.