How to Defrag a Hard Drive
Defragmenting a hard drive rearranges the files so that each file is stored in a contiguous collection of disk sectors. This makes reading and writing of files much faster.
With continuous usage of Windows over a period of time, Microsoft Windows will slowly fragment your files, storing different parts of each file in seemingly random physical locations on the hard drive. In this process, reading and writing of files from and to your hard drive will take more time eventually. The solution is to defrag your hard drive.
Prerequisites
Before you start the defragmentation process of your hard drive, take care of the following steps:
Close all running programs and disable any active anti-virus software you have installed.
If there are lesser or zero programs running, the defragmentation process will be more quicker and efficient. This will eventually lead to lesser read/write operations on your hard drive, resulting in a complete and effective defragmentation.
Perform a disk cleanup.
Go to Start Menu and then click All Programs > Accessories > System Tools > Disk Cleanup.
This will help remove all the unnecessary files – like temporary files, cache, Internet files, etc. By deleting these files, they will be avoided from defragmentation and help improve performance.
Steps to Defrag your Hard Drive
There's a default tool called Disk Defragmenter bundled with Windows.
Step 1: Click Start Menu. Go to All Programs > Accessories > System Tools > Disk Defragmenter.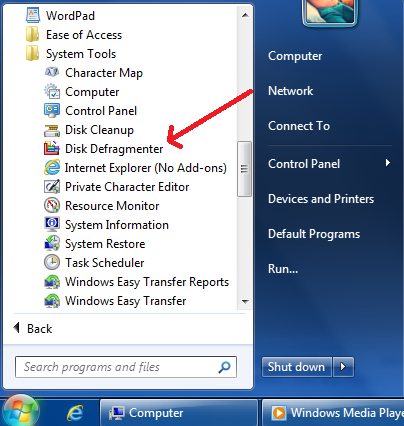 Step 2: In the Disk Defragmenter tool, you will see a list of all hard drive partitions that can be defragmented.
It's recommended to perform a disk analysis before your begin defragmenting. This analysis will tell you if the selected disk partition really requires defragmentation. Choose the hard drive partition and click Analyze Disk.
The analysis will give you a percentage of how much of your partition is currently fragmented. 100% means you require to defragment and 0% means you needn't.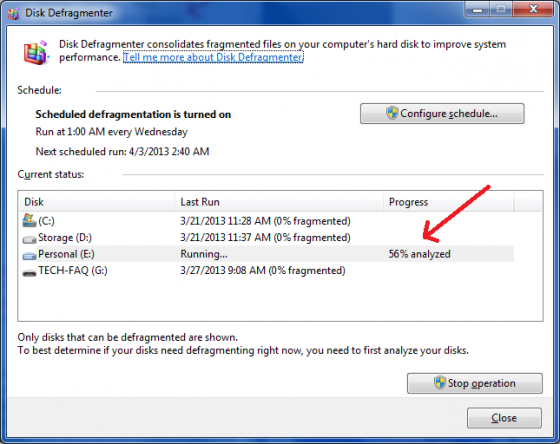 Step 3: If the above analysis resulted in anything more than 0%, that means you require to defragment. Choose a disk partition and click Defragment disk.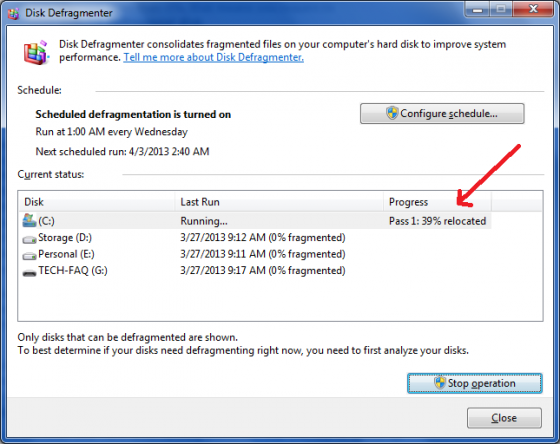 The defragmentation process may take several hours depending on the partition's size and level of fragmentation. However, you can continue to use your computer simultaneously for other tasks.
Defragmenting the hard drive will keep your hard drive running efficiently. This will help to speed up the computer as a whole and this process should be done at least once a month to keep the computer working at maximum efficiency.
How to Defrag a Hard Drive,