What is AIM?
AIM is AOL's version of instant messaging application and it allows users to communicate with each other in real time by way of text, voice, and video over the Internet.
Features of AIM
AIM also has certain features like:
Chatroom messaging.
Peer-to-peer file sharing with one's buddies.
Storing your contact information on AOL's servers, which enables you to keep tabs on up to 1000 friends from any computer that has Internet access.
Security Issues with AIM
AIM has some serious security issues which have facilitated the creation of exploits by way of third party software that can cause malicious attacks on the user's computer. This not seen as a potentially serious problem by some persons but it can be,in some cases the IP addresses of users have been accumulated and viruses sent over a direct connection to theses addresses. One way this is achieved is by the use of social engineering, and the viruses are spread through instant messages containing a url along with a message asking the receiver to click the URL, and once that is done infection occurs.
Some Internet security watchers have noted that, if these virus attacks occur, AIM can expose your computer to the direct remote execution of commands without you the user being there. Also it can cause the problems that already exist with Internet Explorer to be exploited. Unauthorized script code being embedded in Internet Explorer. The injection of HTML, to facilitate token and cookie manipulation and cross-site request forgery.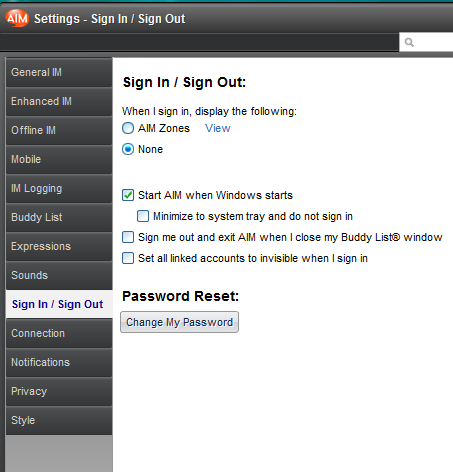 There is a version of AIM that is an add-on for Windows. That means it connects with AIM automatically, thereby adding chat logging, removal of ad, cloning, list window and translucent windows.
Disabling AIM
It is one of those challenges many people face when using Windows and in many ways annoying, those applications that just automatically launch, after installation, when you start up your computer.
The America Online Instant Messenger (AIM) is one such application and it can be very tricky to shut off. Here are some simple steps you can take to disable AIM.
Start up your computer.

Click the explorer icon on your desktop.

Find the AIM icon on your Taskbar.

Right-click on it -you will see a menu box.
Choose "Settings" (which can be also done by AIM application if that's easier).
Then go to the "Sign In / Sign Out" tab.
Uncheck the "Start AIM when Windows starts" option.
Click "Apply" or "Save" and you're done.

Restart computer.
Check to see if AIM loads again when computer is restarting. If it does not then AIM is disabled.