What is Windows Security Alerts
Windows Security Alerts is a security feature of the Windows operating system that warns users when there are security-related issues. Windows Security Alerts is directly connected to the Windows Security Center and may present information concerning the user's firewall, network, or computer itself. Windows Security Alerts is especially helpful when the computer is infected by a virus or other malicious software as it warns the user that his/her computer might be infected.
How To Disable Windows Security Alerts
As Windows Security Alerts can be irritating when they constantly pop-up to warn the user about a new flaw in the user's security, many users choose to turn them off altogether. This can be done by going to the Control Panel in Windows and selecting "Security Center". This will open an interface that allows the user to turn his/her firewall on or off, update antivirus software, and turn automatic updates on and off. Users can also use the bottom link on the left side that reads "Change the way Security Center alerts me" to change alert settings for the firewall, automatic updates, and virus protection.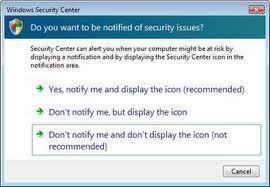 Potential Virus
If the user has disabled Windows Security Alerts and continues to receive its messages, this could be the sign of a virus that has infected the user's computer and pretended to be Windows Security Alerts in order to scare the user into using the virus's fake antivirus software. This is a very common virus that tricks a lot of users because it seems to popup from the Windows Taskbar, which is generally considered a rather secure tool. If the user does have a virus, a full scan of any of the following antispyware or antimalware software will remove it.
Spyware Terminator
Spyware Terminator is a free antispyware software that is able to detect, quarantine, and delete virtually any type of virus on the user's hard drive. Spyware Terminator is able to perform both "Quick" and "Full" scans. The Quick Scan only takes a few minutes but only scans the most critical sections of the user's hard drive while the Full Scan scans the user's entire hard drive but can take several hours. Spyware Terminator includes a real-time shield with various sensitivity settings and a browser protection software called ClamAV that essentially takes the functionality of Spyware Terminator to the user's browser. Spyware Terminator includes scheduled scanning and scheduled updates and can be found at http://www.spywareterminator.com/ .
Malwarebytes' Antimalware
Malwarebytes' Antimalware is a free antimalware software that can detect any trace of malware activity and destroy its source before it can cause any permanent damage to the user's computer. Like Spyware Terminator, Malwarebytes' Antimalware is able to perform Full Scans and Quick Scans and can detect viruses, rootkits, trojans, worms, dialers, and other types of malware. The software is available in multiple languages, works with all Windows operating systems, and includes a real-time shield. Malwarebytes' Antimalware also includes several manual malware removal tools, command line support, and integration with Windows that allows users to scan individual files before opening them. Malwarebytes' Antimalware can be found at http://www.malwarebytes.org/mbam.php .
Spybot Search and Destroy
Spybot Search and Destroy is another free antispyware software that is designed to be fast and efficient at quarantining and destroying malicious files. Spybot Search and Destroy is very easy to use but does not have as much protection as Spyware Terminator or Malwarebytes' Antimalware. The software includes a real-time shield, scheduled updates, scheduled scanning, a web protection feature, and a browser privacy feature that can delete the user's browser history, temporary files, cached webpages, form data, usernames, passwords, and cookies. Spybot Search and Destroy is relatively fast compared to other antispyware programs and is rather basic in design. Spybot Search and Destroy can be found at http://www.safer-networking.org/en/home/index.html .