Yahoo Messenger is an instant messaging software, provided by Yahoo, which allows users to instantly communicate with each other via text-based messages, audio recordings, live audio feeds, and webcam feeds. Yahoo Messenger allows users to contact any of their Yahoo or Facebook friends, as well as import contacts from other email addresses, and can support conversations between multiple users simultaneously in live conferences.
How To Install Yahoo Messenger
In order to install Yahoo Messenger, you will need to download the program from the Yahoo Messenger Official Homepage and run the installer when prompted.
From here, you will be welcomed to Yahoo Messenger and will be asked which folder to install the program to as well as which additional actions you would like to take, such as making Yahoo your default homepage or installing the Yahoo toolbar.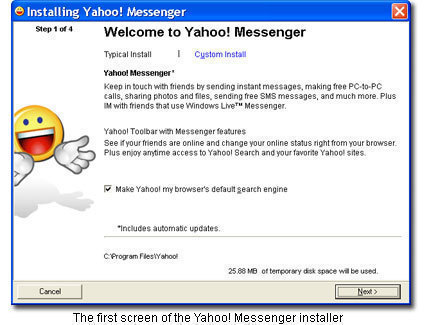 The next step requires you to confirm that you have read and accepted the License Agreement and Terms of Service.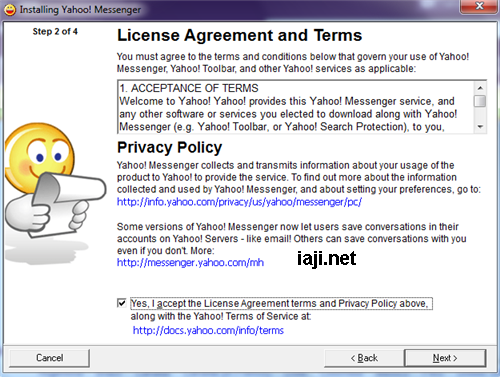 Once this is complete, the next screen simply summarizes the program(s) you have chosen to install, how large the total installation will be, and how long the installation will take depending on your connection type.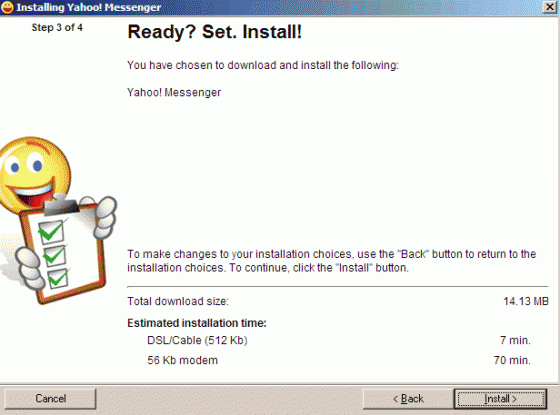 Once you click the "Install" button, the launcher will install Yahoo Messenger and allow you to launch the program.