Windows Messenger is an instant messaging software that allows users to communicate with friends and family members from anywhere in the world via instantaneous text-based messages and audio/video calls. Windows Messenger is the default instant messaging software of the Windows Operating System and is automatically installed when a user purchases a new Windows computer.

Windows Messenger vs Windows Live Messenger
Although Windows Messenger and Windows Live Messenger are similar in both design and function and are often confused with each other, they are two separate programs that are independently operated by Windows.
In effect, Windows Live Messenger is the upgraded version of Windows Messenger, but is a part of a completely different system of programs and services, collectively known as "Windows Live".
How To Uninstall Windows Messenger
While users can manually download and install Windows Live Messenger at any time, the software does not replace Windows Messenger. Because of this, users must specifically disable or uninstall Windows Messenger in order to prevent it from consuming unnecessary memory. Users can uninstall Windows Messenger at any time by opening the Start Menu, opening the Control Panel, and double-clicking Add/Remove Programs. From here, the user can scroll through the list until he/she has found Windows Messenger, select it, and click the "Remove" button. The user can then follow the on-screen instructions in order to uninstall Windows Messenger and all icons associated with it.
How To Uninstall Windows Live Messenger
Windows Live Messenger is an instant messenger program that comes previously installed on computers that shipped with Windows as the operating system. In most cases, people use a different instant messenger program and would like to remove this software from their computers. Removal, though, can be tricky because it is not as simple as doing a program uninstall. That's only the first step.
Open the Control Panel and click the Programs and Features button. This will take you to a list of all the programs that are on the computer. Scroll to the bottom and find Windows Live Messenger. Click it so that it is highlighted and then press the uninstall button. Depending on the speed of the computer, this might be done in ten seconds or it could take up to about a minute. It'll question whether an uninstall is really what "you want to do" and then it will remove the files.
Unfortunately, there are other files that are still in the computer that hold files. Therefore, it is important to get rid of these files as well. Using the search bar in the start menu, type in cleanmgr. Press enter and after a few seconds, the disk cleanup option will appear. Select only the downloaded program files, recycle bin, thumbnails, setup log files, hibernation file cleaner, temporary Internet files, and temporary files. Once these have been highlighted, run the disk cleanup software to get rid of all the files. Typically, that is all that is needed to clean the computer of the files; however, sometimes more is needed.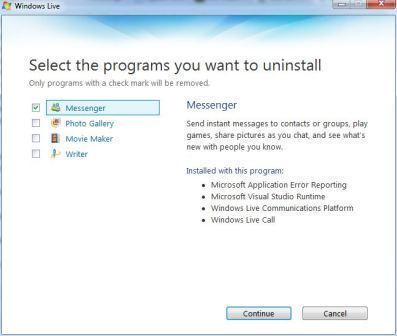 Open Windows Explorer. To access the folder needed, click organize, folder and search options and then view. Click the advanced settings and remove the hide extension for known file types check box. Then select show hidden files and folders. Using the start menu search feature, type in %USERPROFILE%AppDataLocalMicrosoft, press enter and then right click the contacts folder to delete it.
The final step is to deal with the registry. It is important to have an understanding of how to manipulate registries because if not done properly, the operating system can have errors which could result in the need for a repair or re-installation of the operating system. Therefore, do a backup of the registry and then proceed with care.
Open the command window by typing CMD in the search bar. There is a list of five commands that should be entered in order. If a prompt comes up and says the key doesn't exist, simply move on to the next command. If the command window is open, a small black box should be visible. The five commands are:
REG DELETE "HKLMSoftwareMicrosoftWindows LiveMessenger' /f
REG DELETE HKLMSoftwareMicrosoftMSNMessenger /f
REG DELETE HKCUSoftwareMicrosoftMSNMessenger /f
REG DELETE "HKCUSoftwareMicrosoftWindows LiveCommunications ClientsShared" /f
REG DELETE HKCUSoftwareMicrosoftIdentityCRL /f
Once those commands have been entered, close the command window down and restart the computer. Once the computer loads completely, Windows Live Messenger will have been completely eradicated from the computer.