In order to functionally activate Microsoft Windows Vista OS versions using the Windows Vista activation wizard, you need to do the following:
Click on the Start button found on the leftmost bottom portion of the desktop
Click on the Computer option from the selection
Then click on Properties from the list of options
Click on the Click Here option in order to functionally activate your Windows Vista OS version (please be advised that in order to do this, you would need to have administrator permission privileges)
Afterwards, you can key in the password or the confirmation code if you are asked to provide your machine with proof of administrator admission privileges. Then, you can choose from the list of options provided by the wizard in order to continue with the activation process. This means you can activate your Microsoft Windows Vista-operated machine online or via phone. But if you choose to activate your Microsoft Windows Vista-based machine online, your OS will only be activated 3 days right after your first attempt of logging on the World Wide Web.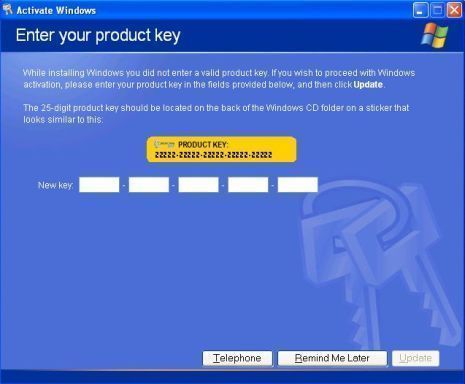 After activating your Microsoft Windows Vista-operated machine, you should keep in mind to set up the security configuration settings of your machine before connecting it to the Internet and browsing through the World Wide Web. This will help you prevent malicious software programs from penetrating your system. With this, you should also install a good anti-viral software program which comes bundled with a wide array of security tools. These security tools should include Spyware/Adware/Malware/Virus detection and removal functions together with firewall security options. You should also make it a point to schedule your anti-viral program to regularly update its virus definitions since this would help you avoid new malicious software programs from penetrating your machine.
System Requirements for Windows Vista
If you would like to find out if your current computer can have the Windows Vista system downloaded to upgrade an older version of Windows you can go to the Microsoft website – there is a Windows Vista tutorial there. Also, there is a download that once installed will run a systems check for you to determine if your computer is suitable for the upgrade. It will go through the entire computer operating system, hard drive memory, virtual memory, and other plug-ins and updates you may need to use Windows Vista.
Vista compatible. If your computer can run Windows Vista then you will be taken to an upgrade screen. This is where you would pay for the upgraded software to download and upgrade your system.
Vista incompatible. If your computer cannot handle the upgrade the tutorial will let you know why. You can then delete the tutorial file from your computer.
Activation Code
Bundled with a New Computer
If a new computer has been purchased, then all that needs to be done then is to enter the activation code that has been given to you with the PC – it will be part of the literature that came with it. The activation code is usually a combination of letters and numbers which need to be entered into a text box which will appear on the screen after starting the machine. Once the activation code has been entered, the computer is ready for use. However, once the code has been used the computer cannot be used by anyone else. Nor can the Windows Vista operating system. The activation code becomes canceled once it has been entered into the system and activated. This information will be sent to Microsoft letting them know that you've now activated Windows Vista.
Windows Download
If Windows was downloaded to your computer then the activation code will be given to you at that time and you'll need to use it to activate the program. There will be a box that will pop up that you will need to enter the code into. This code will again be composed of letters and numbers.
Once the code has been entered into a computer there is nothing more for you to do but to begin using Windows Vista. The activation of Windows Vista is very simple, and as long as you always keep the activation code that was given to you with your computer or online, you'll never have any problems with receiving technical help.