Over the years, some the products which have seen a tremendous amount of counterfeiting are Microsoft Windows Products. While counterfeit MS software might be cheap for those that use it, it can also be less stable – allowing access by viruses, trojans, and malware. It also should be noted that in some situations – such as in using counterfeit software in a corporate environment, heavy fines can be risked.
If you are purchasing a new or used computer with Windows software or buying Windows software via a retail outlet, here are some tips on how to verify a Windows CD is legal.
Where you purchase your Windows software will either reduce or increase the risk that the software is legal. For instance, if you purchase a new computer from Dell with Windows, you usually don't have to worry – however, if you bought a copy of Windows from eBay, you may want to check to make sure that it is legitimate. Following are some simple ways to do so: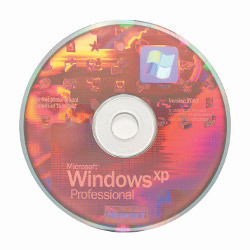 Certificate of Authenticity (COA)
For those that purchased a new computer with Windows software, on the computer itself should be affixed a small certificate – called a Certificate of Authenticity (COA). If you purchased a retail version of Windows software, the COA will be affixed to the top of the retail packaging. Since COAs are not sold separately, if your Windows product does not come with a COA there is a good chance that it is counterfeit.
Proof of License Label
If you purchased your Windows software from a retail dealer, along with a COA you should see a proof of license label accompanying the installation disc. The proof of license label is an orange label; it contains a 25 character product key. Again, this item is not sold separately, so if your Windows disc does not come with a proof of license label there is a good chance that it is counterfeit.
Inner Mirror Band Hologram
For Windows software that was purchased from retail dealers, on the instillation CD you should see a 360 degree hologram. It is located on the inner mirror band of the data side of the disc. The mirror hologram should reveal the words Microsoft and SECURE. This hologram is not a sticker, but is embedded into the disc.
Other Hologram and Security Features
While the above security features should give you an easy indication of whether or not your software is genuine Microsoft Windows, other security features also exist. These features include:
Wavy Edge Perimeter Hologram
Wavy Edge
Dynamic Stereogram
Security Patch
Perimeter Hologram
Microsoft Product Activation (MPA)
Another relatively easy way to tell if your Windows software is legal is with Microsoft's Product Activation (MPA). MPA is a way in which Microsoft can verify your product. Included with many types of Microsoft software is a wizard that will walk you through the activation process when loading the software onto your computer – in most cases your product will only need to go through MPA once; however, if you decide to significantly upgrade a number of your computer components, you may have to reactive your MS product again.
There are two ways that MS can activate your product – either via the Internet using the activation wizard or through a telephone call between you and MS. If you are using the wizard to activate your MS software, you will require a working Internet connection. During the activation process, your computer will upload specific data that will be checked with MS's database. Activation is usually quick and convenient. If you do not have a internet connection or would rather not use the wizard, you can opt for confirming your product over the telephone. This method can be done anonymously. During telephone activation, you will be asked to provide a 42 digit confirmation ID and also answer a few brief questions. Within a few minutes, your activation will be complete.
Products such as MS Office XP, Windows XP and Vista require MPA, but it should be noted that not all MS produts require it. For more information regarding how you can check to make sure your Windows CD is legal, please visit the following link: http://www.microsoft.com/resources/howtotell/