A MIDI interface is a device that connects MIDI devices to a computer and lets the computer record from them and plays back through them. MIDI interfaces do not pass sound or audio data through them, they pass MIDI data. Through MIDI you can connect keyboards, sound modules, samplers, effect processors and put them all under computer control.
The original Musical Instrument Digital Interface (MIDI) specification defined a physical connector and message format for connecting devices and controlling them in "real time". A few years later Standard MIDI Files were developed as a storage format so performance information could be recalled at a later date. The MIDI Message specification (or "MIDI Protocol") is probably the most important part of MIDI.
Though originally intended just for use with the MIDI DIN transport, as a means to connect two keyboards, MIDI messages are now used inside computers and cell phones to generate music, and transported over any number of professional and consumer interfaces (USB, FireWire, etc.) to a wide variety of MIDI-equipped devices. There are also many different cables/connectors that are used to transport MIDI data between devices.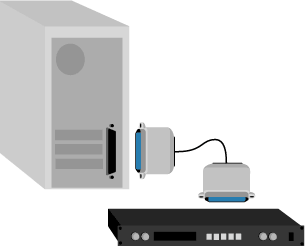 The "MIDI DIN" transport causes a lot of confusion because it has specific characteristics which some people associate as characteristics of "MIDI" — forgetting that the MIDI-DIN characteristics go away when using MIDI over other transports (and inside a computer). With computers a High Speed Serial, USB or FireWire connection is more common. Each transport has its own performance characteristics, which might make some difference in specific applications, but in general the transport is the least important part of MIDI, as long as it allows you to connect all the devices you want use!
The final part of MIDI is the Standard MIDI File (and variants), which is used to distribute music playable on MIDI players of both the hardware and software variety. All popular computer platforms can play MIDI files (*.mid) and there are thousands of web sites offering files for sale or even for free. Anyone can make a MIDI file using commercial (or free) software that is readily available, and many people do, with a wide variety of results. Whether or not you like a specific MIDI file can depend on how well it was created, and how accurately your synthesizer plays the file. Not all synthesizers are the same, and unless yours is similar to that of the file composer, what you hear may not be at all what he or she intended.