Motion Control Today, Holobands Tomorrow
This week was marked by the Electronic Entertainment Expo (E3). Among the biggest debuts were the motion control peripherals including PlayStation Move from Sony and Kinect for Xbox 360 from Microsoft. The race is on about which of the two technologies will perform better in practice and which will be better received in the market.
Of course, neither Sony nor Microsoft were first to come up with motion control. Nintendo had this nailed since the launch of Wii with its Wii remote control in 2006. They will, however, claim to have improved on the technology and to some extent this probably cannot be denied.
The emergence of motion control in the gaming industry is interesting from the perspective of the expected merger of human and technological, and bridging of the gap between real and virtual which seems like an integral part of that process. At this point, with Nintendo's Wiimote, PlayStation Move and Xbox Kinect we are grasping for the elements of the virtual world like we never did before, and that means something.
I would, however, argue that this is actually a rather tough intermediate step. Despite what the marketing soundbites from Microsoft and Sony might tell you being able to control elements of the virtual world with body movements isn't exactly being in the virtual world itself. In fact, unlike sedentary gameplay, it might actually to some extent be even less convenient and even more troublesome.
Nothing demonstrates this better than Kinect games which involve such physical activities as dancing or running. You are supposed to hop or run in place, raising dust and noise, possibly annoying house mates and neighbors. You can seldom escape the fact that you're just pretending, that you are not really in the virtual world, and you have to be even more mindful of what is going on around you in the physical world.
Putting virtual reality glasses on in combination with headphones wont help because even while you ignore your housemates and neighbors they might not ignore you.
This is why I think these technologies fill a rather tough spot. They are the best we can do with existing mature technologies, but I think it is inevitable that if we want to really be inside the game and control it naturally we will need brain interfaces, not fancy motion sensors and motion tracking cameras.
Brain Computer Interfaces (BCIs) are advancing, and some are already on the market. It is quite conceivable that within a decade or two these will be the best means of controlling virtual worlds. Instead of tracking the actual movements of your hands a future BCI might track your intention to move your hands, and move your virtual hand accordingly, giving you the feeling of really moving your hand even if outside of this phantasm you are just in an idle sitting position all the while.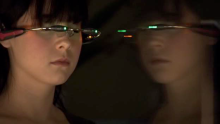 You might see your hand moving through VR glasses or retina projected image, or even a direct simulation of imagery to visual processing parts of the brain. This is essentially the holoband technology seen in the amazing scifi series Caprica.
Technologies required to accomplish this, however, are in a completely different field than technologies involved in motion tracking systems like Move and Kinect. While Move and Kinect rely on cameras and software that interprets what the camera sees the "holoband" technology relies on the detection and interpretation of actual brain activity.
This is also why I believe motion tracking technologies are in a kind of tough spot. As far as the experience goes they are at best an alpha version of what may be possible with "holoband" technology. As far as technology goes "holobands" might simply make it obsolete or relegated to marginal uses.
That said, they are all still pretty exciting, and as a scifi fan and a geek I do feel like "we are living in the future" when I see what can be done with them. But as a perpetually forward looking futurist I also immediately see how "primitive" it is compared to what may be coming not so long from now, which will for all intents and purposes be the destination, the experience that the industry may be aiming for all along.
As for which is better between Move and Kinect. I say buttons offer Move an advantage as far as user experience go, and Kinect is a more interesting technology showcase. Given that in most games you do virtually hold something in your hands (a gun, a sword or whatever) it only makes sense that you actually hold a controller in your hands in the real world as well. Without the controller, Kinect actually requires of you to imagine even more than you really should by asking your mind to fill in that empty space within the grip of your hands.
Enjoy your weekend fun and games!