A network card is an expansion card that installs into a computer and enables that computer to physically connect to a local area network.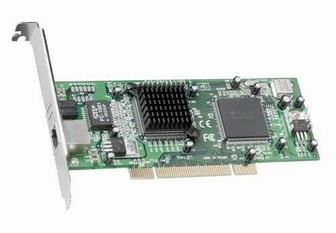 The most common form of network card in current use is the Ethernet card. Other types of network cards include wireless network cards and Token Ring network cards.
Ethernet network cards most often use RJ-45 jacks. Wireless network cards usually have no external connections other than a possible antenna jack.
Other terms for network card include network adapter, network interface card, and NIC.
Network Card Interfaces
Network cards that use a slot in the PCI bus are available. USB network cards are also available. Most laptops can utilize a PCMCIA network card.
Network cards, however, are becoming much more rare as most motherboards now include network interfaces.