SODIMM
A SODIMM (Small Outline Dual Inline Memory Module) is a series of small DIMM chips that is specifically designed to fit into smaller working environments such as mobile devices and notebook computers. SODIMMs are designed to be smaller than regular DIMMs due to space restrictions, but provide the same processing capabilities. Both SODIMMs and regular DIMMs are simply a collection of RAM chips that provide memory management functions to personal computers, servers, and other workstations.
How SODIMM Works
SODIMM provides memory management to the small processors found in mobile devices. While most computers have one or two RAM chips installed on the motherboard that store recently accessed information in order to speed up the processor and manage applications that are currently in use, SODIMMs consist of many RAM chips, usually three or four, that are connected together in a strip and installed on the motherboard as a single unit.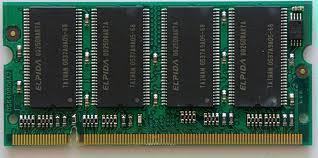 Applications
SODIMMs are used in mobile computers such as laptops, notebooks, and iPads. SODIMMs can also be found in some smartphones and PDAs that require higher processing capabilities than a standard cell phone. While small electronics such as pagers, media players, and digital watches do not usually draw processing functions from a SODIMM, it is not unheard of for SODIMMs to be found in these devices as well.
Advantages
SODIMMs are advantageous because they provide a significant amount of memory and processing capabilities to small electronics without taking up the space that regular DIMMs do. This is very important in most small devices because they require the memory that SODIMMs provide for routine tasks, but do not usually have the room for DIMMs in addition to their many other parts. Since SODIMMs include several RAM chips on a single circuit, they are able to process much more than a single RAM chip is capable of and in less time, allowing the device's processor to run smoothly and efficiently without interruption.
Last updated
.