The Future by Apple: Computers as Appliances?
Apple just came out with what they call the best computer they've ever created; the MacBook Pro with a Retina display. It's certainly quite a high end computer; in design, capability, and price. It's hard not to be impressed. We are offered a super powerful computer, with generous IO options, super fast all-flash architecture, and the screen with the greatest pixel density in the industry, all in a design that's almost as thin as the MacBook Air, and as stylish as anything we've come to expect from Apple.
Unfortunately, it is also not repairable, and not upgradeable. As the iFixit teardown revealed everything in it is so tightly integrated, with both RAM and flash storage chips soldered onto the board. It is difficult to even open, and impossible to repair or upgrade yourself. In other words, it's the same story as with the MacBook Air, except perhaps even worse.
A computer which you're not able to repair, customize or upgrade yourself is much like an iPad or an iPhone. What you buy on day one is what you have till you finally replace it with something else. In this respect such a computer is an appliance; a device which is designed to serve a specific purpose, and which we typically don't expect to modify in any way during their lifetime.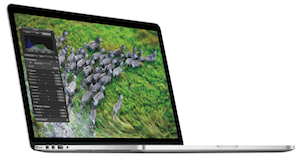 It could be said that Apple is going in this direction out of necessity. It is in big part the greater integration, and unique design of internal components that allows Apple to come out with notebooks this thin yet this powerful. However, when Apple takes what appear to be extra steps to prevent user repairability and upgradeability, it's easy to think that pure necessity isn't the only thing driving this trend.
At the very least it seems quite convenient for Apple to be able to further lock down their devices and excuse this with necessity. Lack of repairability and upgradeability means that as soon as a user might need or want more memory or processing power they will have to go and buy an entirely new computer instead of simply upgrading the current one.
In this respect the new MacBook Pro with a Retina display is much like the MacBook Air, and both are touted as the future of Apple notebooks. Coupled with the increasing popularity of tablets, and iPad's equally appliance-like nature, the trend towards general purpose computers as appliances seems clear. Existing 13″ and 15″ MacBook Pro's are essentially becoming legacy computers.
Is this all bad?
Computers as appliances is arguably a trade off rather than a completely negative thing.
First obvious benefit is the fact that tightly integrating everything together on a single board allows for designs that are thinner, lighter, while potentially more powerful and efficient.
I'm not sure it would be possible to create a notebook like the MacBook Pro with Retina display if repairability and upgradeability were a concern. While buying such a computer certainly isn't everyone's forte, it's not an entirely bad thing to have one as a choice for those who want it. Others can buy classic MacBook Pro's or notebooks by other manufacturers.
Second potential benefit might be psychological. People for whom repairing and upgrading things themselves is an unpleasant chore anyway might not care at all that they now cannot do that. In fact, since upgradeability and repairability is likely oppositely proportional to integration, and integration could yield greater stability and durability some of us might actually like the idea of the computer being just a "magical" appliance that should be left alone to operate just as it was intended to, without any tampering. Add to that the tendency for Apple devices to last quite long even unmodified.
Of course, there are some negatives besides the obvious inability to repair and upgrade it yourself. One is higher repair costs, which have an effect on resale value of such a computer as well. If repairing is expensive a broken MacBook Air with a Retina display will likely be less attractive on the market than for a notebook whose repair is easier and cheaper. This puts the customer of a MacBook Pro which breaks too soon in quite a bad situation, when you basically have to lose significant amount of money whichever way you go. In other words, you better hope it never breaks.
Kyle Wiens from iFixit also points to the difficulty of recycling the MacBook Pro with Retina display's screen since it is glued to the aluminum, as well as the "death clock" of limited battery cycles, although the latter has significantly improved in the latest iterations of MacBooks making it less of an issue.
In any case, he points out how this trend is largely affected by the market reactions, that is, the decisions of buyers themselves. When MacBook Air came out customers overwhelmingly voted yes with their wallets. Once again customers are given the opportunity to vote with their wallets on the new unrepairable MacBook Pro over the classic 15″ MacBook Pro. So to a large extent the trend towards computers as appliances is driven cooperatively by both Apple and its customers, and not just by Apple.
The Future by Apple: Computers as Appliances?

,