Three Reasons to Buy a Laptop Now
Here are three great reasons to buy a new laptop now. These don't even include the fourth great reason — you want one!
The Great Recession
The "Great" Recession has pushed so many buyers out of the marketplace that manufacturers, distributors, and resellers are all pushing their margins to razor thin levels — or even operating below margin just to keep the doors open.
Unless you are one of the 9.2% of Americans, who are currently unemployed, this can actually be to your advantage. Not only are the store aisles clear, you can also buy stuff cheap.
Summer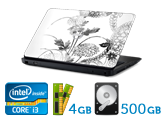 Many computer vendors offer great deals in the Summer, hoping to attract the dollars of students who are working during their time off from school. Dell, for example, is a great American company which has some awesome laptop deals this Summer.
With these Summer-only deals, you can get a name-brand computer with a bevy of accessories for the price of an off-brand.
Hyperinflation
With the new Republicans in Congress making it difficult for the Democrats to borrow money, the next step the government will most likely take to "manage" the enormous ($130,100 per taxpayer) national debt is to create hyperinflation. The government can do this by creating paper money or, even easier, by creating electronic money.
After hyperinflation, the national debt will become manageable and the government will be able to keep spending like a drunken sailor — but the dollars and cents you have been saving won't be enough to buy a value meal at McDonalds. Spend your dollars now, while they are still worth something.
Last updated
.