All generations of the iPod Touch feature a 3.5-inch (diagonal) touchscreen. The first and second generation of the iPod Touch is available in 8 GB, 16 GB and 32 GB sizes. The third generation of iPod Touch is available in 32 GB and 64 GB sizes. Immediately, this tells you that if you have a 64GB iPod Touch, it is third-generation.
How to Tell if your iPod Touch is First-Generation
The first-generation iPod Touch is identifiable by its antennae cover, on the back of the device. If your device has an ovular antennae cover, it is either second or third-generation. See the image below:
How to Distinguish the Second-Generation iPod Touch from the Third-Generation iPod Touch
Firstly, if your iPod Touch features an 8 GB storage capacity, it is second-generation. Secondly, if your iPod Touch is capable of storing 64 GB, it is third-generation. If you have a 16 GB or 32 GB device, you will need to look at the text engraved on the rear-bottom. Find the model number – if it is A1288, you have a second-generation device; if it is A1318, you have a third generation device.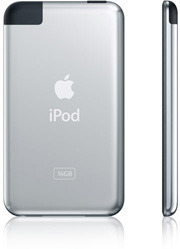 If the model number on your device is not A1288 or A1318 and your antennae cover does not match the one in the image above, your device is not genuine.