Who Needs TV When You Have Boxee?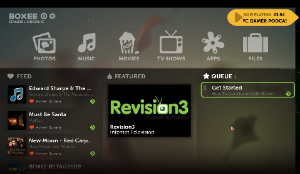 I was on multiple occasions tempted to get an IPTV service with its convenient access to a number of always available TV channels from FOX Life to Discovery Channel to CNBC, yet every time I ended up wondering what would be the point as I reminded myself of all the stuff I get without a monthly subscription using software like Boxee on my PC.
First off, the sheer amount of great video content now available from various exclusively Internet based media companies like Revision3 which I can watch on demand and in great quality means I will likely be spending a lot less time in front of traditional television. Secondly, traditional TV shows are increasingly available over the Internet and thus through Boxee as well. I can watch podcasts from CNN and BBC, and even live streaming from AlJazeera, Russia Today, Euronews etc. if I ever feel like getting the fix of global bad news.
And then there are of course Hulu, FOX, SyFy and the like which offer streaming of almost any TV series I'd ever want to watch, pretty much closing down any remaining need for traditional TV. Of course these are typically limited to the US population, unless you are willing to tunnel your connection through a VPN.
I mentioned Boxee multiple times already and if it seems like I'm acting as if there are no other options that's because there pretty much aren't. There are devices you could buy such as Apple TV and Roku, but Apple TV is of limited use compared to Boxee and Roku isn't available everywhere. The simplest way so far to get a TV like experience without paying a TV subscription is Boxee.
You don't need more than your existing PC running either Windows or Linux. Of course, with just a PC and one screen you would have to use that screen for Boxee. If you have a graphics card which send to two monitors, and an extra monitor or a TV with DVI input you can use one screen for Boxee while still leaving the other available. If you add a bluetooth dongle and a bluetooth remote control to the picture you can lean back and just use the remote control to browse and watch your stuff.
To separate the TV experience from your traditional PC experience, however, you will need an extra PC, in which case buying a Boxee box or Roku might actually be a good option, or if those aren't available, buy a pre-built HTPC or build one yourself. It's just a dedicated cheap PC that you put in your living room, hook up a TV to, and use to watch your media.
Personally, I keep my entire digital life in one hub. My HDTV simultaneously acts as a second computer monitor for both my PC (via DVI) and my Mac (via HDMI) which is handy in a variety of situations. Adding the ability to sit back and watch TV like media on it just completes the mix, and Boxee is perfect for that.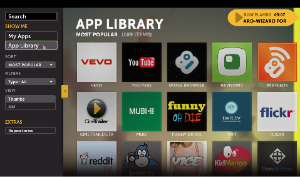 Where Boxee shines the most is its apps. Before even adding a single video or a music file to my media library I derive a huge benefit from Boxee thanks to the many apps it has available and instantly installable for it. There are apps ilke Revision3 featuring a number of their shows, LiveStation for live streaming of various traditional news channels, RadioTime for listening to a number of local radio streams, and apps like Mediafly which offer their own categorized libraries of online video and audio podcasts with their own look and feel. All of this is just scratching the surface, however. It is probably safe to say that most of the entire internet's video world is available pretty much instantly via various Boxee apps.
Not all apps function the same though. While some offer smooth and truly TV-like playback others seem to just load a web site with an embedded flash video and full-screen it. This results in some YouTube videos showing an ad just like in a web browser, except it can't be closed.
This is a minor complaint, however, when you weight it against the benefit of having everything in one place. When all the available video content sources are considered YouTube and similar sources actually play only one modest part of the overall offering.
Content provided through apps can be browsed directly, by apps, or through Boxee's built in TV Show, Movies and Music browser which integrates in one place both the shows, movies and music from the local source and those available via apps.
On Boxee's home screen, for example, you will be able to choose either "My TV Shows" or a "TV Show Library" which when selected offers all of the shows available via apps in a single place. Selecting a show brings up a list of available episodes which when clicked offer a play button that opens an appropriate app through which the show can be played. If there are multiple apps through which the show is available they will be displayed as alternative options as well, which is quite convenient. Movies and Music sections behave the same way for those types of media.
Boxee also includes a file browser which could be useful for browsing to a media file not already in the library and viewing it. Boxee's picture viewer supports browsing previous and next pictures, a slideshow mode, zooming in and out, and even rotating of photos.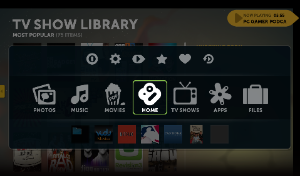 The overall look and feel is quite pleasant and functional and seems to make good use of screen space. Homepage offers access to the main sections, featured content, a feed of latest content and a queue. Wherever you are, except while playing a video, an escape button will bring up a three layered menu from which it is easy to navigate anywhere else in Boxee, from the feed, history and queue to the movies, TV shows and apps as well as shortcuts to specific apps or media which you can set yourself.
Currently playing media can play in the background while you browse to something else and you can always return to it by selecting a bubble on the top right. For music and podcasts Boxee has built in waveform and great milkdrop visualizations.
At the top right you can always see current time and local temperature which can be set under region settings in the look and feel settings.
There is a number of things that can be configured. In the settings menu you can add new sources, change the look and feel, adjust media playback settings, system and network settings and personal video feeds from twitter and Facebook.
Among look and feel settings, in addition to region (including location, time format and temperature scale), you can set up screen resolution with support for multiple screens, screen format and overscan, screensaver, language, sounds and background image (including image folder). Media settings allow setting up subtitles font, music visualizations, photo slideshow settings and autoplay settings for removable media such as DVDs and Audio CDs.
System settings allow configuring audio, disabling mouse and various other advanced options. Under networking it is possible to enable a proxy, configure Boxee to act as a web server and even serve as an SMB client to have access to remote Samba shares.
This is a quite comprehensive array of options and features for a completely free package.
It does have a few quirks though, in addition to the already mentioned issue of some apps being just full screened youtube videos (along with ads). Boxee performance occasionally hiccups for a while making browsing and video playback somewhat sluggish. It usually recovers from this by itself. It can also occasionally happen that an app causes it to freeze requiring it to be manually quit or killed in the task manager, but this has happened only once to me, and can probably be blamed on the app itself.
Of course, there are also annoyances which don't necessarily have Boxee itself as the culprit, but which somewhat impair the Boxee experience. This mainly includes unavailability of a number of content sources due to regional restrictions. If you're outside of US you may often times have your excitement over seeing a TV show being available quashed when faced with a screen saying how the video isn't available in your country.
There is a workaround for this which works pretty well for most, but not all such sources. Using a VPN from a service like ProXPN, for example, may allow you to access videos from FOX and SyFy pretty reliably. Boxee, however, doesn't have Hulu available since February 2009 at the request of Hulu content partners, which might for many be a major drawback.
There is some hope on that front though. According to a recent Engadget report Hulu Plus and Netflix might be coming to a Boxee Box so there's a chance that they may become available for PC users of Boxee as well. The talks have only begun, however, so it may still take some time before this is realized.
Who Needs TV When You Have Boxee?

,