If you are using Yahoo Messenger With Voice, you have the option of using your Yahoo ID profile or creating up to five different profiles.
A Yahoo Messenger profile is a unique way of creating a short homepage to let people know information about you. By creating different profiles, you can select a different one while using Yahoo services. For example, if you are using Yahoo Messenger, you can create a business profile with information containing your business website and services offered by your company.
Another example would be to create a profile for your friends with information about your hobbies and a link to pictures of your family. Since you are allowed to create up to five additional profiles, they can be either personal or professional depending on your preference.
To create a Yahoo Messenger profile: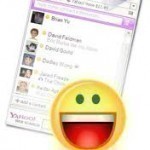 Open your web browser and log onto the Yahoo Member Directory using your Yahoo ID and password.
Click on View My Profiles, which is located at the top right hand side of the page. A new page will open and the next step is to click the Create A New Public Profile button. You will be allowed you to give each new profile a different name.
You can also choose to expand your profile by filling as much personal information as you want, such as your occupation, marital status, and hobbies.
Finish by clicking the <Create Profile> button located at the bottom of the page, and log out.
Your newly created profile is not permanent and can be edited by again logging onto the Members Directory page using your Yahoo ID and password and clicking <Edit> next to the profile you would like to change.