Dell offers four tower workstations in it's Precision line of products: T1600, T3500, T5500, and T7500. The T3500 is the most affordable of the Tx500 line, but still provides plenty of power and options for professional use. Dell's Precision T3500 provides a good selection of options and performance at entry-level prices. It is an excellent choice for professional users.
The Precision T3500 is targeted towards professional users of CAD, animation, and video editing software. These are demanding applications in terms of CPU, video, and RAM requirements. The T3500 can provide good performance in all these areas.
Power Supply
The T3500 is powered by a beefy 525 watt power supply, and for $50 you can upgrade to an 85% efficient power supply which also supplies 525 watts to the chassis.
Motherboard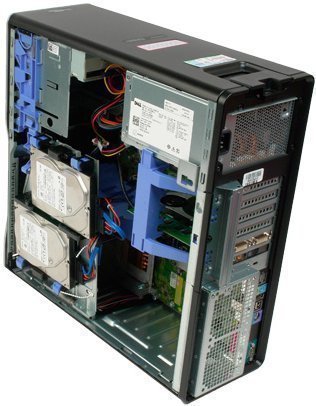 The T3500 motherboard utilizes Intel's X58 chipset and provides ample options in terms of both usability and expansion.
Intel's X58 chipset provides an integrated SATA 3.0Gb/s host controller which support host based RAID 0/1/5/10. The built-in Broadcom 5761 Gigabit Ethernet controller supports both PXE and Remote Wake Up. An integrated sound card provides high definition audio along with 24-bit analog-to-digital and 24-bit digital-to-analog stereo conversion.
6 DIMM slots are available, which enables you to install up to 24GB of 1333Mhz DDR3 SDRAM. Both ECC and non-ECC memory are supported. The base configuration ships with two 1GB DIMM's. Upgrading to 6GB will cost you $260 and upgrading to 12GB will cost you $680. If you are upgrading to 12GB, you will probably want to pay $720 to get three 4GB DIMMs instead of six 2GB DIMMs.
The motherboard provides two PCI-e x16 Gen 2 graphics slots, two PCI-e x8 slot wired as x4 (one full-length and one half-length), and two half-length PCI slots.
The T3500 offers a generous supply of USB ports — eleven in total. Two are located on the front panel, six are located in the rear, and three are internal. It also offers one eSATA port in the read, along with an RJ-45 gigabit Ethernet port, a parallel port, a serial port, and two PS/2 ports.
CPU Options
The base CPU is an Intel dual core 45nm 2.40Ghz Xeon W3503 with 4MB of Smart Cache. This CPU provides an Intel QPI speed of 4.8 GT/s.
If your applications will benefit from increased CPU power and your budget has room, you can upgrade to any of these Intel Xeon processors:
Dual Core 2.53Ghz Xeon W3505 with 4MB of Smart Cache
Quad Core 2.80Ghz Xeon W3530 with 8MB of Smart Cache
Quad Core 3.00Ghz Xeon W3550 with 8MB of Smart Cache
Quad Core 3.20Ghz Xeon W3565 with 8MB of Smart Cache
Six Core 3.20Ghz Xeon W3670 with 12MB of Smart Cache
Six Core 3.46Ghz Xeon W3690 with 12MB of Smart Cache
Video Options
The base video card provided with the T3500 is an ATI FireMV 2260 with 256MB of video RAM. The card offers two DisplayPort outputs and comes with a DP to DVI adapter.
Befitting it's role as a animation and video editing platform, Dell offers a wide variety of video options for the T3500. You can choose from ATI's FireMV or FirePro cards as well as NVIDIA Quadro NVS cards. Video RAM on the cards ranges from 256MB up to 2.5MB on the NVIDIA Quadro 5000.
Upgrading to the 1GB ATI FirePro V4800 or the 1GB NVIDIA Quadro 600 can be done for only $80, so there isn't too much reason to stick with the base video card. The V4800 even supports three monitors.
Hard Drives
The base hard drive is a 500GB 3.0Gb/s SATA drive with NCQ and 16MB DataBurst Cache.
The T3500 case limits hard drive expansion by offering only two internal 3.5″ hard drive bays. There are also two external 5.25″ optical bays, so you could convert one to a hard drive bay while using the other for an optical drive. There is also an external 3.5″ flex bay which you can use for a media card reader or to store a fourth hard drive.
DVD
The base DVD is a 16X DVD-ROM. Most buyers who still use optical media will want to upgrade to one of the DVD+/-RW drives.
Monitors
Dell offers a good range of monitors with the T3500:
Professional P170S 17″
Professional P1911 19″
Professional P190S 19″
E Series E2210 22″
Professional P2210 22″
UltraSharp 2007FP 20″
UltraSharp U2410 24″
The UltraSharp monitors provide 1600×1200 resolutions and 16ms response times, which are excellent for video editing and animation work. The 800:1 contrast ratio and wide viewing angle are very nice for sharing your work with your team members.
Review
Dell's Precision T3500 provides a good selection of options and performance at entry-level prices. The T3500 is an excellent choice for professional users of CAD, animation, and video editing software. If you spend your day with applications like AutoCAD, SPICE, Maya, Cinema 4D, or Sketchup, Dell's Precision T3500 could be the perfect machine for you.