An iPad is a tablet PC that Apple produced. It combines the functionality of a smartphone, laptop, e-reader, and music player. iPads are larger than smartphones, but smaller than laptops and are extremely lightweight and portable. iPads are based on touch screen technology and include support for Bluetooth, WiFi, and 3G. iPads also include motion detection and automatic brightness adjustment, and some models are equipped with both front and back built-in cameras.
iPad Dimensions
The original iPad is 9.56 inches long, 7.47 inches wide, and .5 inches thick. The original WiFi-only iPad model weighs 1.5 pounds, while the original WiFi + 3G iPad model weighs 1.6 pounds. The iPad 2 is 9.5 inches long, 7.31 inches wide, and .34 inches thick. The WiFi only iPad 2 model weighs 1.33 pounds, while the Wi-Fi + 3G model weighs 1.35 pounds for GSM and 1.34 pounds for CDMA.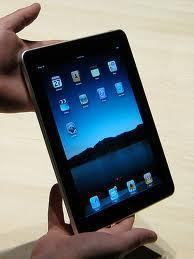 iPad Dimensions vs Alternatives
Though the iPad is considerably slim, it is not the only tablet PC on the market. For example, the ASUS Eee Pad Transformer is 10.6 inches long, 6.9 inches wide, 0.51 inches thick, and weighs 1.49 pounds. The Samsung Galaxy Tab 10.1, on the other hand, is 9.69 inches long, 6.71 inches wide, 0.43 inches thick, and weighs 1.32 pounds. Additionally, the Motorola Xoom is 9.81 inches long, 6.61 inches wide, 0.51 inches thick, and weighs 1.6 pounds. Comparatively, the iPad is one of the lightest, slimmest tablet PCs available on the market today.