Acer is a leading computer hardware manufacturer. They make desktop computers, notebooks, monitors, projectors, servers, and storage devices.
Every Acer computer and laptop comes with a pre-installed BIOS software. This BIOS software is generally protected and secured by some password. Because it is a common tendency for any person to forget passwords, this article specifically discusses about resetting or recovering BIOS password of any Acer computer or laptop.
Mentioned below are few ways by which an Acer's BIOS password can be reset or recovered.
Using Acer eSettings Management
This method will work only if you can boot into your Acer computer. Once you boot in, you can use Acer eSettings Management to reset the BIOS password.
Note: Installing Acer Empowering Technology is a prerequisite to use Acer eSettings Management. Both utilities can be downloaded here.
Step 1: Open Start Menu by clicking the Start button on your desktop.
Step 2: Go to All Programs > Empowering Technology > Acer eSettings Management.
Step 3: Click BIOS Passwords near the footer of the screen.
Step 4: With the Create Password or Remove Password options, you should be able to regain control.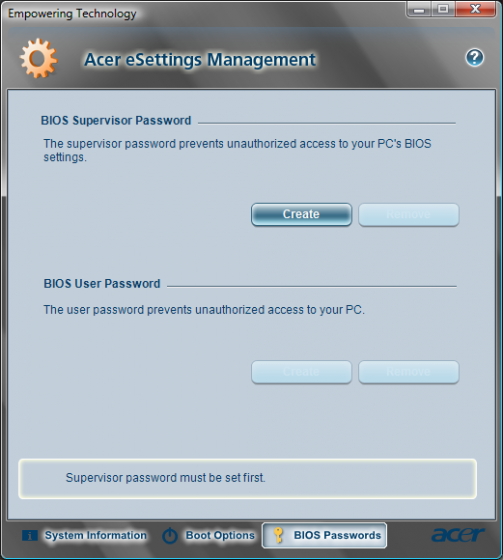 Using Computer Hardware
This method involves fiddling with the computer hardware and components. Proceed only if you're confident enough to do this task. This may also void your warranty period. The steps below are mentioned for both, desktop computers and laptops.
Step 1: Disconnect the power cord from your desktop computer or laptop.
Step 2: Remove the cabinet cover of your desktop.
For a laptop, turn it upside-down and remove the battery. Open the hard drive compartment by sliding the cover out. Unscrew and pull out the hard drive from your laptop.
Step 3: Locate a coin-shaped clock battery (also known as CMOS Lithium battery) and remove it. Keep it aside for at least an hour.
For a laptop, disconnect the tiny power lead that connects the clock battery to the motherboard. Keep it disconnected for at least an hour.
Otherwise, you can also locate a BIOS reset jumper marked CLRP1. Move this jumper to Clear position. Let it be in this condition for at least an hour.
Step 4: After about an hour, replace the battery in the socket or move the jumper back to the Run position.
Step 5: Fit the cabinet cover and start your computer.
If done right, your computer or laptop should boot up without asking for any BIOS password.
Contacting Acer Customer Support
Acer refuses to assist customers with BIOS password issues. The only option they discuss involves sending the laptop to them and paying a $100 fee.
Below is a copy of an email from Acer Support:
Thank you for contacting Acer America. I apologize for the delay in responding to your inquiry. In order to have the BIOS or hard disk password removed (This include any biometric security), the notebook will need to come in to our repair depot for password removal. This service is not covered by warranty and unfortunately there is no other recourse to remove a BIOS or HDD password from the notebook. The flat fee for BIOS password removal is $100.00 US dollars plus tax. If it is a BIOS or HDD password and you would like us to service it for you, please contact our telephone technical support line at 1-800-816-2237. Hours of operation are 7am-9pm CST Monday-Friday and 8am-5pm CST Saturday and Sunday, excluding holidays.
Using Online BIOS Password Generator
Do you know of any other method to reset an Acer's BIOS password?