Mozilla Firefox is a web browser that the Mozilla Foundation runs and NetScape owns. It provides users with add-ons and plug-ins that other web browsers do not, while allowing them to browse the Internet, search for and read email, and play online games. Mozilla Firefox also provides users with advanced options for controlling how webpages are displayed and recorded, as well as how they interact with computers. These advanced options are easy to access and do not require the user to have an advanced understanding of web options.
How to Block Pop-ups in Firefox
In order to block pop-ups in Firefox, do the following:
1) Click the Firefox button or Tools menu and select the Options button.
2) Select the Content panel and check the checkbox for "Block pop-up windows."
3) Allow pop-ups from specific websites by clicking on the "Exceptions" button, entering a specific website's URL, and clicking "Allow."
Mozilla Firefox will now block all pop-ups except for those listed in Exceptions.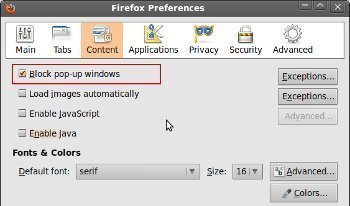 Firefox Pop-up Blocker Add-ons
In addition to Firefox's built-in option for blocking pop-ups, users also have the ability to install Firefox add-ons that are capable of automatically blocking pop-ups and that allow the user to choose which pop-ups are allowed and which ones are blocked. For example, PopupMaster and AdBlock Plus can both be installed in the Firefox browser and provide setting options for allowing pop-ups on specific webpages.