Mozilla Firefox, which the Mozilla Foundation runs and Netscape owns, is a web browser that allows users to take advantage of thousands of add-ons and plug-ins while browsing the web. Since Mozilla Firefox was specifically designed to be both user friendly and functional, Mozilla Firefox users can easily access administrative options from either the Tools menu or the Firefox button. Additionally, users can find step-by-step instructions for most actions in Firefox by visiting Firefox Support.
How to Set Google as the Homepage
One way to set Google as Firefox's default search engine is by making it Firefox's default homepage. In order to set Google as the default homepage in Firefox, users should:
1) Open Google in a new tab.
2) Click the Google icon in the address bar and drag it over to the Home button. This will make Google the new homepage and allow users to access Google by simply clicking on the Home button.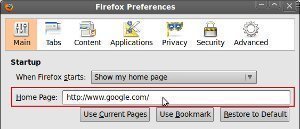 How to Install Google Toolbar
If one would like to see the Google search bar at all times, one can install the Google toolbar as a Firefox add-on. This can be done by going to the official Google Toolbar website, clicking the desired checkboxes, and clicking "Accept and Install."