Hard drive data recovery is the process of recovering lost data from a hard drive when the data cannot be readily accessed through normal retrieval methods. Whether the hard drive has locked up or has completely crashed, there is a good chance the data can be recovered with a variety of hard drive data recovering techniques.
Reasons for Hard Drive Crashes
There could be multiple causes for hard drive failures. A full blown hard drive crash is generally attributed to a hardware issue. The hard drive is a magnetic disc that spins and has an extended arm that collects data from any area of the hard drive. If the arm fails to function or the motor overheats or stops spinning, there is a chance that the hard drive will crash, rendering data seemingly inaccessible from all hard drive areas. Corrupted registry files or system files can also cause hard drive crashes. Viruses, Spyware, adware, and Trojan horses can also cause system file corruption, resulting in a hard drive crash.
Here is an overview of some common reasons for a hard drive failure or data loss.
User Errors
User errors include accidentally deleting or overwriting files and accidentally formatting a or deleting a partition.
User errors can sometimes be resolved through the use of off-the-shelf data recovery software.
Software Errors
Software errors usually result from software writing data to the wrong part of the disk.
Errors caused by software are generally much more difficult for off-the-shelf data recovery software to correct. This task may require the services of a data recovery specialist.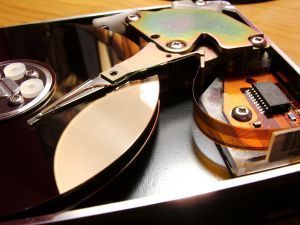 Hard Drive Electronics Failures
When a hard drive physically fails, sometimes the mechanical parts of the hard drive remain undamaged. This can happen, for example, if the hard drive is subject to a power surge or a discharge of static electricity.
In these cases, it is usually possible to take the mechanical parts out of the hard drive assembly and place them into another identical hard drive unit. This should be done in a clean-room environment, to prevent dust from damaging the hard drive.
Hard drive arm failures are very common. When the hard drive arm fails, there is a very good chance that it will damage the hard drive platters.
Hard Drive Arm Failures
When you hear the clicking noises from your hard drive which signal a hard drive arm failure, back up all necessary data immediately and power the system down as soon as possible.
If the hard drive platters have not been damaged, a data recovery specialist may still be able to recover data from a hard drive with a damaged hard drive arm.
Hard Drive Platter Failures
No drive platter is manufactured perfectly. There will always be some bad spots on the platter surface. Modern hard drives automatically mark those bad spots as unusable and do not store data there.
Sometimes bad spots will develop during the life of the hard drive. The hard drive will mark that spot bad and attempt to move the data to a good spot on the hard drive. This may, or may not, result in the loss of some data.
Serious hard drive platter failures can occur as a result of hard drive arm failures. In these cases, the hard drive platters are being scratched. Your data is being scratched right off the surface of the platters! You can often hear this damage occurring. These failures are very expensive or impossible to recover.
Determining the Cause of a Hard Drive Crash
To determine whether a hard drive has crashed due to mechanical failure or a software related problem is relatively simple. Check whether the flashing light in front of the computer case is blinking or not. If the light is flashing but the computer is not booting up, then the problem may be software related. In most cases, the cause is either virus related or due to a corrupted system file. These types of hard drive crashes can generally be recovered by reinstalling the operating system.
If the flashing light in the front of the computer case is not blinking, there is no hard drive activity and this is generally attributed to a mechanical problem. In this scenario, a qualified computer technician may have to fix the hard drive issues.
Techniques for Recovery
First, the thing that has to be done before rectification of the problem is to determine the extent of damage.
The recovery process involves procedures such as:
Repairing the hardware
Imaging of the disk
Repair of the hardware may involve certain replacements such as:
Replacement of the printed circuit board (PCB) on the drive
Removing hard disk platters from the crashed disk and putting them into a new disk.
How does Data Recovery Work?
Windows never completely deletes the contents of a file. When a file is deleted accidentally or intentionally, Windows just deletes the first byte or the file reference and leaves the file contents stored on the disk. A broken storage medium still has the data stuck in it. Now, the safest method to recover data from failed disks is to take help from qualified engineers.
How do Engineers go about Solving this Problem?
Hardware engineers access most of the disk so that they can produce another copy of it, and then give it to software engineers.
Software engineers will use specialized software made specifically for data recovery. In the end, the final data will be written into the new device. It is quite a lengthy process.
Many specialized software applications are available these days in the market, reducing the complications in the work of the engineers.
The Role of Hard Drive Data Recovery Software Programs
Hard drive data recovery software programs play a major role in recovering hard drive data. Several vendors offer these types of programs. Most automatically create backup copies of their files and folders, reducing data loss potential. A good hard drive data recovery program can recover all the important files or folders that vanish after partition loss, accidental format, file or directory deletion, software malfunction, or even a virus attack. Whether someone accidentally deletes files or their computer crashes, data recovery software can locate the lost files and recover them from the hard drive.
The main contexts where hard drive data recovery software is found useful include:
Missing file or directory
Formatted hard drive
Deleted file or directory
Unbootable hard drive
Inaccessible hard drive
Recovery of deleted files and folders on FAT and NTFS hard drives or partitions
Data recovery on damaged FAT and NTFS partitions
Damaged or corrupted partition table
Most hard drive data recovery software programs currently available are easy to install, user friendly, and are virtually self maintaining. However, it is a good idea to purchase these programs from a trusted software supplier.
Most software companies understand the consumer's need to be assured of value and ease of use, so if the data recovery software selected has a trail offer, it may be a good idea to give it a test drive before purchasing it.
Software Applications for Recovery
To name a few:
The Coroner's Toolkit: This is a checker tool for a Unix system. It can be used for forensic analysis or after a break-in.
TestDisk: This is a checker to recover lost or damaged partitions on a wide variety of systems.
The Sleuth Kit: This is a checker tool for operating systems like UNIX, Linux and Windows.
CHKDSK: This is a utility tool for DOS and Windows systems.
DCFLdd: This tool is used for imaging in FreeBSD.
ILook Iximager: This tool is suitable for governmental agencies.
Boot disks may also be used in the recovery process if data loss caused the inability to boot from the hard drive. A live CD, boot floppy disk or USB device containing repair tools are often used. As the complexity of operating systems increased it is common for recovery tools to come with the OS install disk.
Physical Damage
Typical computer users cannot repair most physical damage to a hard drive, such as failed motors or head crashes. Physical hard drive damage often results in some data loss and in most cases users may not be able to recover all the lost data. However, the physical damage can also result in the damage of the logical structures of the file system that prevents file system structures from being completely written to the hard drive.
If the hard drive has any physical damage, seek a technical expert to assist in recovery or choose a data recovery company to recover as much data as possible. Most hard drive data recovery firms utilize the latest tools like magnetometers to retrieve the lost bits from the magnetic media. The recovered raw bits from the damaged hard drive are used to construct a new disk image and the logical damage can be repaired.
What you should do after the Data is Recovered
If you managed to recover data yourself, and the drive is still usable, there are a few things you should do afterwards:
Take a full backup of the data you need.
If the disk is partitioned again and still usable, you can use fdisk to delete the old partition and create and format new partitions.
Recreating the partitions is very important because many internal data structures may have suffered damage.