The Secure Digital (SD) memory card format was developed for portable devices across a wide range of product categories and is the unofficial industry standard for memory card format. SDHC is the high capacity variant of the memory card format. It has a slightly different communication protocol from the SD type and does not necessarily work on the same devices. Newer computing devices typically support both formats, however, older devices will not necessarily do so. Consumers often want to determine the differences between SD and SDHC memory cards.
SD Memory Card Capabilities
A number of manufacturers including Kodak, Sandisk, and PNY produce the SD memory card. They also form the core of the SD Card Association that approves changes to the SD card format. The cards were first introduced in 1999 and have a standard size of 24 mm x 32 mm x 2.1mm. These cards' storage capacities go up to 4 GB and their writing speeds average less than 2 MB per second (class 2), with newer cards available at 4, 6, and 10 MB/s. Since the SD has a lower write speed than SDHC cards, they are better suited for lower cost and/or speed digital cameras, MP-3 players, and digital picture viewing. The cards use the Fat 12/16 storage system.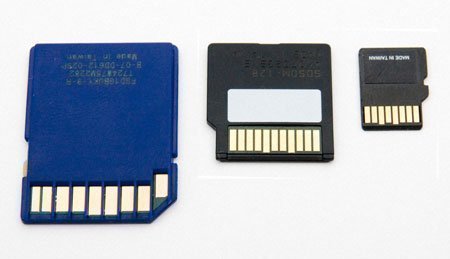 SDHC Memory Card Capabilities
The SDHC memory card standard provides greater storage space and access speed when compared to the SD format. Cards of this format range from 4 to 32 GB in size, support the FAT32 file system, and have the same physical size as the SD card format. The increased access speed (2MB to 6MB a second) of the format makes the SHDC cards suitable for high-end photography and video with a guaranteed level of minimum performance. SDHC memory cards can also work in SD standard slots if the supporting hardware firmware is upgraded to support the communication protocol of the card. In order to guarantee that a device will support an SDHC formatted card, the SDHC logo will be printed near the storage location of the card. If the logo cannot be seen, then the format is not guaranteed to be supported.