Voice over Internet Protocol (VoIP) is a relatively new technology, because of which individual businesses will need someone who is well versed in the intricacies of VoIP. Companies are often willing to invest in training their IT administrators in VoIP because of the sure returns. But, where do you go to obtain a training course that delineates all the necessary concepts and details you need?
There are various options available for those wanting to get themselves trained in VoIP technology. The primary means of training are through self-study coupled with practical application, classroom training and e-learning. Books, websites and demonstration videos/DVDs can be used as training materials.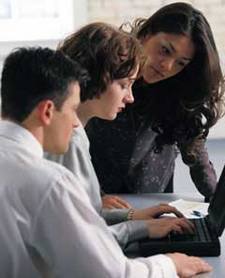 Candidates for VoIP Training
VoIP is a combination of telephone connectivity and networking, and because the technology requires expertise in networking and telecommunication, both communication and networking engineers will be the ideal candidates to participate in training in VoIP concepts. Instructors of VoIP generally recommend sending such engineers for training.
VoIP Training Options/Resources
There are basically two types of VoIP training courses – vendor specific and non-vendor specific.
Vendor Specific VoIP training
Vendor specific training is provided in the form of certification courses by leading players in the networking equipment market, like Cisco and Avaya.
Non-vendor Specific VoIP training
The options below should be of great help for non-vendor specific VoIP training.
The above courses will not lead a participant to a product-specific certification, but will have all the necessary ingredients of VoIP technology and its implementation.
Off-Site vs. On-Site Instruction
Most reputable firms prefer on-site instruction, especially if the office has enough employees to warrant a localized training course. As an alternative, they may invite the trainees to a centralized training facility or offer interactive webinars. The former option is better if you are looking for a comprehensive on-the-job training course, and the latter is appropriate if you want a more subject oriented session on a specific VoIP topic.