Alexa is a subsidiary of Amazon.com which ranks web sites based upon actual user traffic to those sites.
User traffic is monitored using the The Alexa Toolbar.
Users voluntarily download and install the Alex Toolbar because includes a Popup Manager and Google Search, and also displays Site Info, Alexa Traffic Rank, and Related Links.
Understanding Alexa Traffic Ranks
In Alexa Traffic Ranks, a lower number is better. The number 1 site receives more Alexa-monitored traffic than any other web site on the Internet. The number 50,000 site receives more traffic than the number 75,000 site.
The #1 position in Alexa is currently held by Yahoo.com.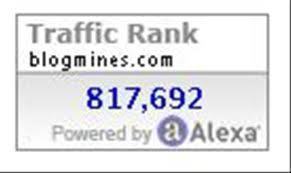 Boosting your Alexa Traffic Rank
It is fairly easy to artificially boost your Alexa Traffic Rank by installing the Alex Toolbar and browsing your site extensively. Doing this on a regular basis can get your web site an Alexa Traffic Rank near 100,000.
Alexa Traffic Ranks above 100,000 are not considered reliable because of this fact.