Google is an incredibly large corporation that has at least a dozen different departments to contact. Therefore, contacting them is not as simple as picking up the phone and calling. For the most part, contacting Google requires sending an e-mail to which they'll reply. While they do have a phone number, it isn't specific to each department; therefore, it could take some time to get patched through.
Contacting Google by Department
Google has a central contact us page at http://www.google.com/contact/. This page has links that pertain to contact information for specific departments. For example, assume the interest in Google's Internet security. The broad area that it would fall in is sales, however, their e-mail support is so organized that each unique product that they offer has its own contact email address for support.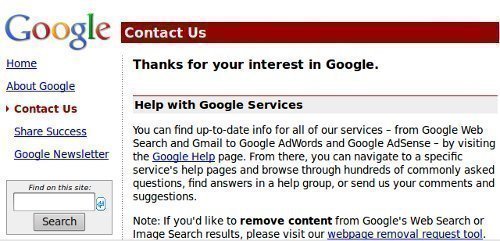 So the step-by-step navigation would be to click on Enterprise Solutions followed by Postini Services and then finally, the individual product that one had a question about. However,when contacting them, the most that can be done is fill out an online form with your details, contact information and the products you are interested in, and a Google representative would contact you. There is no way to put specific information into the Contact Us form.
Contacting by Office
Their headquarters is in Mountain View, California and they provide an address right on the contact page. More importantly, there is a phone number; however, it is one direct line and no department-wise phone numbers are listed. This can be frustrating, especially if there is an issue that needs to be fixed.
Another way to get better help is to contact the individual Google offices. Because each office is smaller, there is less bureaucracy to deal with. However, the only problem with contacting Google through their satellite offices is that they might not have the answer for you and will tell you to contact the main headquarters. In the end, Google seems to encourage e-mail based communication and provides limited telephonic avenues of customer support.