A volcano is any opening in the Earth's surface that allows molten rock and volcanic gases to escape from far below the Earth's surface. Although many volcanoes are mountainous in shape, a volcano can exist in nearly any form, including volcanic vents on the ocean floor, ice volcanoes, which have been found on a variety of other planets, and volcanoes that are simply a crater in the ground.
Despite the variances in the shape of volcanoes, they all erupt in relatively the same way. The process begins when the pressure on a magma chamber deep below the Earth's surface begins to build up. This building pressure causes the magma from the chamber to be forced upward through a series of tubes or conduits. As the magma reaches the surface, it is thrust through the vents on the volcano, resulting in an eruption.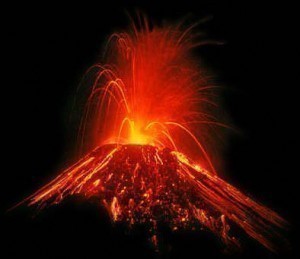 The size and severity of a volcanic eruption depend on a variety of underlying factors. Some of these include:
How full the magma chamber was at the time of the eruption
The amount of gas present in the magma and in the magma chamber itself
How much silica is in the magma itself
Whether or not any water is present in the eruption
Water, Silica, and Pumice
If a volcanic eruption has a low amount of water as well as a low amount of silica in the magma, the lava will flow gracefully from the volcano. This is because there is little water to provide any explosive potential and the lack of silica in the magma causes the lava to be runny and more liquid. Under the same conditions, if the magma were to have a higher amount of silica, the lava would become pasty and would work more towards making the volcano taller and create what is known as a lava dome atop the volcano.
If there are high amounts of water present in a volcanic eruption, the volcano changes its eruption style significantly. The added water creates steam, which can lead to fountains of lava if there is not much silica present in the magma or an explosion if the magma erupting from the earth is high in silica.
Despite the powerful forces at work during a volcanic eruption, there are a few things that can block a volcano from erupting. One such obstacle is an accumulation of pumice, which can create a massive stoppage in the magma pipes. However, once the magma finally breaks through its barrier, an explosion type eruption usually takes place.
Videos Related to Volcano Eruption