If someone is looking for an alternative to burning video on a DVD, one of the easiest and most affordable forms of media, he/she can burn what is called a VCD (Video Compact Disc). While DVDs are a great way to store large files, especially video and sound, VCDs, while smaller in size, can easily store video as well.
The only difference between a VCD and compact disc is that it includes both video and audio files. Most CDs only include audio files. VCDs offer the same amount of storage space as CDs, usually about 650 to 700 MBs of space. Depending on the storage space, a VCD can store up to 74 minutes (650 MB) or 80 minutes (700 MB).
Advantages of VCDs
VCDs usually use MPEG-1 format to record video and audio. One of the advantages is that practically all computers are able to view VCDs with their CD player. In addition, all DVD players are compatible with VCD disks. DVDs, on the other hand, are sometimes incompatible with one another. For instance, there are DVD+R and DVD-R media. There is also DVD RAM. Certain DVD players only play one type of DVD, making the other types incompatible. Another great advantage is that CDs are usually always less expensive than DVDs. CDs can usually be found for less than $0.25 and many are around the $0.10 mark.
Disadvantages of VCDs
While VCDs are on the whole more compatible than DVD and cost less, the trade off is that VCD picture and sound quality are usually inferior to that of a DVD. The reason that video and sound quality are in most cases inferior is the amount of storage space. To record a video file that is larger than 650 -700 MBs, it must first be compressed. Compressing it reduces the video's resolution, usually from a DVDs normal resolution of 720 X 480 to a VCD resolution of 352 X 240. It should be noted that in most cases, audio files will play normally and will not experience any loss of quality, except in the cases of specialized sound formats such as surround sound. Users should be able to enjoy full stereo sound at normal CD quality bit rates on a VCD.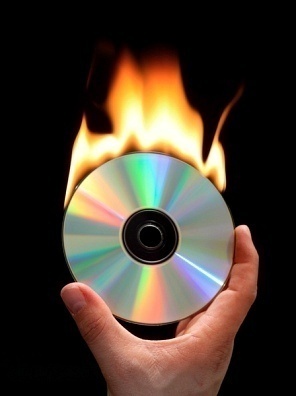 Burning a VCD
It is extremely easy to create a VCD. The only things needed are a CD burner/player, CD burning software, and the ability to encode a video or multimedia file into a VCD compliant format, which is MPEG-1. MPEG-1 is the format of choice for VCDs. It is a great format to view video at extremely low bit rates. Since it is non-propriety, it is very similar to MP3 files. It should be noted that normal DVD files are recorded with MPEG-2 and while this format offers excellent video and audio quality, the file sizes are extremely large and usually require much more powerful encoders, decoders, and processing power.
Encode a Video File
In order to burn a VCD, the user must first have a video file that it is already encoded in MPEG-1 format. For example, if the user took his/her digital camcorder to his/her son's baseball game and wanted to record the highlights onto a VCD, he/she should first transfer the video media to the hard drive. Once the computer can access the video, encode it into the MPEG-1 format.
Usually, an encoding program is needed. The good news is that there are many free and low cost products that encode a video file into MPEG-1 with high quality stereo sound. To do this, open up the encoding software, follow the prompts, and select the desired format (many encoding software can encode not only in MPEG-1, but also MPEG-2, DIVX, AVI, etc.). From this point, the encoding software will quickly and efficiently encode the original video file into a ready to burn MPEG-1 file.
Burn a VCD
Once the user has an MPEG-1 file, he/she can easily use his/her normal CD burning software to burn the VCD. Just pop in a blank, recordable CD into a CD recordable drive, open up the CD burning application, and follow the prompts. From start to finish, changing a normal video file into a complete VCD usually takes only a few minutes.
Viewing a VCD
The VCD is viewable in practically all computer drives as well as the vast majority of DVD drives. Please note that from time to time some DVD players are finicky with VCDs, just as they are with recordable DVDs. Sometimes it might take a few tries to play on a specific DVD player. If this happens, try a different VCD brand.