Though most Kindle batteries last for several years, it is still possible that a Kindle may still need a battery change.
Check the battery life meter on the Kindle before ordering a new battery and be sure not to mistake the signal strength meter for the battery life meter. Many users find the meters easily confusable as they are both located at the bottom right of the Kindle screen.
Some common reasons for needing to change a Kindle's battery include:
Frequent recharging due to heavy use, which shortens battery life.
No opportunity to find a charger, such as during a long international trip.
Most rechargeable batteries' battery life is measured in charges, not years, so it is not unheard of to have to change a Kindle's battery.
If one is having trouble with the Kindle's battery life, follow these directions to change the battery: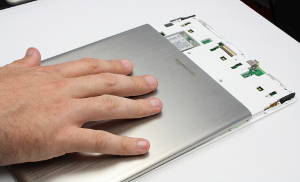 Turn the Kindle off
Lay the Kindle face down on a flat surface on top of a soft cloth that will protect the Kindle's face.
Slide the back cover off of the Kindle. The back cover slides to the right.
The battery will be clearly visible in its compartment, with the compartment having a notch at one end.
Use a finger to push the battery away from the notch and lift it up. (Important note: do not use a screwdriver or any other device, as it may damage the delicate electronics inside the Kindle.)
There is a white connector and several wires attaching the battery to the Kindle. Push it back very gently until the battery disconnects from the Kindle.
Attach the new battery by pushing the white connector in the proper location on the battery compartment.
Seat the battery in the compartment, making sure that it is securely and properly attached, particularly to the white connector.
Press the battery down to click it into place, following the guidance of the notch and battery groove.
Replace the back cover carefully.
Turn the Kindle on and verify proper start-up.
Ordering a Replacement Battery
The Kindle 3 battery is not officially replaceable, but batteries are sold on Amazon's marketplace. Kindle 3 batteries are $39.95, Kindle 2 batteries are $27.95, and 1st generation Kindle batteries are $19.99.
The Kindle 3 comes with a LICO S11GTSF01A 3.7V 1750 mAh lithium polymer battery. Since the battery that comes in all Kindles is made from lithium polymer, it should always be disposed of properly. Take the old Kindle battery to a special battery recycling center for disposal.
Kindle battery life can be extended by turning the wireless option off, which increases each charge's duration. For Kindle 3, this recharge should last about a month. The fewer the times that a Kindle is recharged, the longer the battery life will be preserved.