MicroSD cards are the newest and smallest flash memory secure digital cards available, much smaller than both standard SD memory cards and even Mini SD memory cards. MicroSD cards were created by SanDisk Corporation and were introduced into use in 2006. These cards were created to be used with mobile phones; however other applications such as GPS receivers, digital cameras and Mp3 players do exist.
Super Small Micro Size
The microSD card is extremely small, only about one-fourth of the size of a standard SD memory card. It can be considered the size of a human fingernail. The microSD card is currently the smallest compact flash memory card on the market commercially. It was originally developed as the T-Flash (sometimes called TransFlash). It was announced in March of 2005 and was made available commercially a year later in 2006.
Storage Capacity for MicroSD cards
The storage capacity for microSD cards can range from 128 MB to 4 GB; however, they most often contain storage sizes from 1 GB to 2 GB. Storage capacity should increase in future products.
MicroSD card Specifications
Width: 11 mm
Length: 15 mm
Thickness: 1 mm
Weight: 0.5 grams
Number of Pins: 8 pins
Please note: there are no terminal guards and there is no Write Protection Switch used with microSD cards. microSD cards are considerably smaller than the standard SD memory card. Standard SD memory cards have specs as follows Width: 24 mm, Length: 32 mm and Thickness: 2.1mm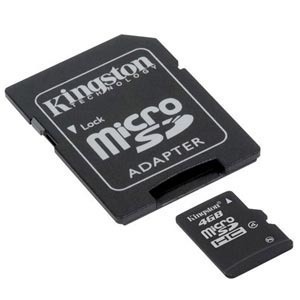 MicroSD card Adapter
One of the great advantages of the microSD cards is that they are backward compatible with many electronic devices that use standard SD memory cards. You can find many uses for standard SD memory cards including digital cameras, MP3 players and PDA's (personal digital assistants). Using the adapter (usually included with the purchase of the card) the microSD card can easily and quickly be inserted in any device that is compatible with SD memory cards. You can easily swap the cards between devices or have it read by your personal computer.