eSATAp is a high speed connectivity option for external storage devices like portable hard disks (HDD), Solid State Drives (SSD), and Networked Attached Storage (NAS). It is also referred to as eSATA/USB combo port and Power Over eSATA. This connection is 3 times as fast as USB 2.0, and its speed is comparable to USB 3.0 and Firewire 800. It is compatible with USB technology and is the preferred connectivity choice in the latest notebooks and PCs.
History
Serial ATA is a computer bus interface that is meant to connect host bus adapters with mass storage devices such as hard disks and optical drives. External SATA or eSATA is an external version of SATA, and is meant to connect external storage devices. eSATAp is the combination of eSATA and USB ports. The SATA-IO (Serial ATA International Organization) formally acknowledged "eSATAp (Power over eSATA), "as the actual name for the new eSATA/USB combination port" in September 2008.  This name was coined to avoid confusion with the existing eSATA port.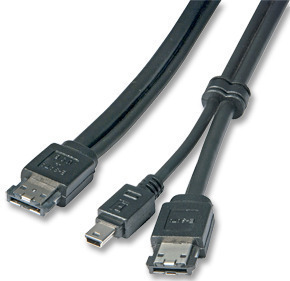 Compatibility
eSATAp ports can be used to connect both eSATA and USB devices, but only one can be used at a time. It is simply a combination of two existing connectivity technologies, and therefore does not need the support or installation of any new software. Unlike eSATA devices that require external power, eSATAp devices can draw in power themselves.  However, the power is for the USB part of the port, and traditional eSATA devices still need an external power source, even when they are connected to an eSATAp port.
eSATAp ports on notebooks can provide a maximum of 5V of power, sufficient to run a 2.5" HDD/SSD. On desktop computers, they can provide up to 12V of power, enough to run larger 3.5" HDD/SSDs or 5.25" optical drives.
Speed
Depending on the motherboard being used, eSATAp speeds can be 1.5 Gbit/s, 3 Gbit/s, or 6 Gbit/s. The theoretical throughput of a USB 2.0 port is said to be 480 Mbps (60 MBps), though in actuality, it can only reach half of that number. When an eSATAp port runs applications involving external storage devices, it can deliver between 6-24 times the bandwidth of a conventional USB 2.0 port. The raw throughput of USB 3.0 is 4 Gbit/s, which is higher than SATA II's (3 Gbit/s). However, this is still less than SATA III, which can deliver up to 6 Gbit/s. Unlike USB, eSATAp requires translation to USB, which decreases the latency time.
Applications
eSATAp is useful in a variety of applications including instantaneous data backup and restoration, and high speed data recovery. It is also widely used to provide connectivity for video editing and audio production related tasks. It can be used for NAS storage expansion via eSATA as well. eSATAp has made gaming/general storage on external HDD/SSD very practicable.  It is also useful in disk cloning and virtualizing.
Implementation Options
There are multiple ways to implement eSATAp in a desktop computer/notebook:
Built-in Ports
The latest desktop computers and notebooks are equipped with built-in eSATAp ports.
Brackets
Brackets take advantage of existing SATA ports in desktop computers and convert them into eSATAp ports. They are a very simple connectivity option, eliminating any incompatibility issues, as they only use the existing hardware setup and need no new drivers or OS tweaks.
PCI Express Add-on Cards
These add-on cards are meant for desktop computers that require advanced functionality like port multipliers, which enable the user to connect to a multi-bay NAS system consisting of multiple HDDs with a single eSATA cable. Only eSATAp cards with port multipliers are capable of connecting to such NAS setups.
Expresscards
Expresscards are exclusively aimed at notebooks and are meant to provide eSATAp functionality to mobile computers. Unfortunately, these cards can only power 2.5" HDD/SSDs that require 5V of power. Larger devices need a dedicated power supply.