Electrosurgery is the the term used when high-frequency electrical current is used to cut, fulgurate, desiccate, or coagulate tissue with very little blood loss during surgery. The Harmonic scalpel is one of two competing brands in this field that help increase a surgeon's efficiency and reduce the overall recovery time for patients. The device consists of an electrosurgery system that contains a cutting instrument, hand-held ultrasonic transducer, foot-pedal, and generator.
What Is Electrosurgery?
Electrosurgery uses a high-frequency current to cut tissue during surgery. Unlike traditional hand-held scalpels, this process allows surgeons to perform precise cuts without seeing significant blood loss from the patient. Electrosurgery devices are used in both out and in-patient operations and help reduce the overhead associated with patients having to remain in the hospital during post-op recovery. In order to make an incision (etc), the device heats the tissue with alternating currents. Members of the medical field have increasingly used it over the past decade.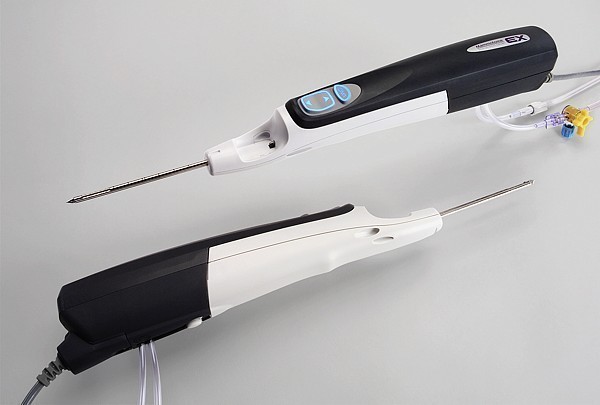 What Procedures Can the Harmonic Scalpel Accomplish?
The Harmonic scalpel is used for endoscopic and open surgical procedures, and uses ultrasound. The device coagulates blood in order to reduce the bleeding that is characteristic of traditional steel scalpels, and seals blood vessels at lower temperatures than required in laser or electro surgery techniques. The Harmonic Scalpel is used in dental and ophthalmic surgeries. Some specific procedures in which the device is used include: lung biopsies, gynecologic cancer, hemorrhoidectomy, thyroidectomy, and cholecystectomies.
Benefits of the Harmonic Scalpel
The Harmonic Scalpel's biggest advantage is the reduced bleeding and recovery time for the patient. Other advantages include the ability for a surgeon to make more precise cuts, and an overall reduction of lateral thermal tissue damage in comparison to other operating devices. There is also significantly less desiccation and charring of the blood vessels when the Harmonic Scalpel is used for surgery. Finally, the device requires less instrument exchanges than other techniques do during surgery.
Disadvantages of the Harmonic Scalpel
The Harmonic Scalpel's primary competitor is the Bovie. The Harmonic Scalpel is able to cut through thicker tissue. However, it is not as maneuverable and takes more time to coagulate and cut tissue. Additionally, the Harmonic Scalpel can only coagulate tissue when it cuts.