With an increasing number of people listening to music via their MP3 player or iPod, it is no wonder that there is such a large demand to play their favorite digital tunes in their vehicle. Unfortunately, for most vehicles, there is no easy way to connect most MP3 players. Due to the high demand, many companies have created products that make it extremely easy to listen to an MP3 player in a vehicle. Here are just a few ways to connect an MP3 player to a car stereo:
Wireless Adapters
One of the easiest ways to connect an MP3 player to a car stereo is by using a wireless adapter. Wireless adapters are easy to use, effective, and affordable. Most wireless adapters cost less than $30 and work with practically all car stereos (including stock and after market car stereos).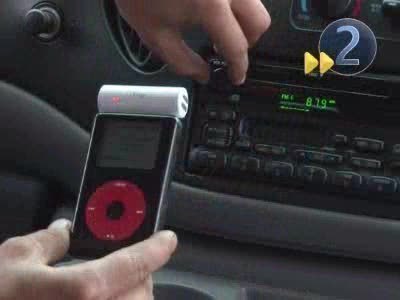 A wireless adapter (sometimes called an FM transmitter) is a small device that plugs into an MP3 player via a regular headphone jack. The digital music is sent to the wireless adapter and then transmitted in the form of FM radio waves that the car stereo can receive. The wireless adapter can be set to transmit on select FM channels that commercial broadcasts do not usually use. Batteries or a DC plug usually powers the transmitter. All that is necessary to listen to an MP3 player is a car stereo equipped to pick up FM radio stations. Many newer models not only transmit FM signals, but they also charge the MP3 player at the same time.
Cassette Adapter
A cassette adapter is perfect for sending MP3 music to a car stereo. However, in order for a cassette adapter to work, the car stereo obviously must have a cassette player. While older vehicles do, many newer cars come equipped with only a radio and CD player.
A cassette adapter looks like a cassette with a wire coming out of it. This wire has a 3.5 jack at the end that plugs directly into the MP3 player. The cassette is inserted into the cassette deck and instead of playing a magnetized tape, actually sends electric signals of the music directly to the tape heads, which play it on the car stereo.
Wired Adapter
Many car and car stereo manufacturers understand that their customers want to be able to play MP3s in their cars and therefore created wired adapters. A wired adapter directly and permanently connects to the car's stereo system. This makes it easy and convenient to connect an MP3 player directly to the car's stereo system. Most wired adapters also include a docking station to charge the MP3 player or iPod simultaneously.
Since wired adapters require installation (sometimes by a professional), they are more expensive to use. However, they offer the easiest and best way to listen to MP3s on a car stereo. Another advantage of a wired adapter is that the user can control his/her iPod or MP3 player directly from the car stereo or the vehicle's control (steering wheel control). Titles of songs and album art can be displayed on the car stereo as well.
USB Connection
Another way to connect an MP3 player to a car stereo is via USB. Since most MP3 players are compatible with USB, many aftermarket car stereos now include USB inputs. Simply stick the MP3 player in or attach it via a USB cable to instantly play MP3s. In addition, this type of connection usually includes the ability to control the music from the stereo receiver and in some cases charge the player.