The iPod equalizer or the "EQ" is a perfect way to control the quality of the music and the tone in which it is played back. Apple, Inc. included the EQ function on its music player in order to improve the quality and sound of the music heard.
When the iPod is first purchased, it will contain equalizer presets that the user can choose to boost a song's sound quality. The settings for the equalizer can be changed under the "Settings" menu, and if you would like to change the EQ presets, follow the steps below.
Before changing the settings for the equalizer on your iPod, ensure that it is not attached to your computer.
The next step involves clicking the Menu button to go down and select the Settings option.
Under the Settings menu, scroll until you reach the EQ feature and select it.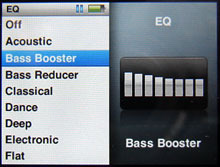 If the equalizer settings have not been changed, it will read EQ-OFF. This simply means your songs are not being played with the use of an equalizer.
If the equalizer setting under the Settings menu reads EQ-FLAT, the equalizer is not used to play an encoded song unless the user has attached a preset to it in iTunes. Therefore, it is possible to use the iTunes software to attach equalizer presets to songs. When these songs are then transferred to the iPod, the iPod will play the preset that has been established by iTunes, before playing any new preset selected on the iPod.
If the song you would like to play was not assigned an equalizer setting in iTunes, or you would like to change it from the previous setting, this can be done while the song is playing. Follow the instructions above to go to the EQ menu after you have selected the song.
Once inside the EQ menu, the equalizer settings can be changed for a previously assignation.
The first option within the EQ settings menu is to turn the equalizer off, and you can click this if you had had established a preset earlier on your iPod.
Other than this first option to turn the equalizer off, some examples of equalizer presets that can be selected include: the Bass Booster, Bass Reducer, or Classical presets.
The song will be played with this new equalizer setting, and the next time it is loaded again.
The Bass Booster and Bass Reducer are the most common settings changed under the equalizer settings. These settings allow the iPod user the ability, to increase or reduce the bass for the songs they choose.
However, if you decide not to use the equalizer to play songs on your iPod, it is recommended that the EQ-OFF setting be selected. Having this feature ON in your iPod is a quick way to drain the battery.